Young Philly Church Serves the Community, Baptizes 24
May 26, 2015 ∙ by Anonymous ∙ in Uncategorized
Young Philly Church Serves the Community, Baptizes 24
Story by Dawn Robinson
Allegheny East Conference's young Bethel church and Community Services team in Philadelphia recently hosted a community youth and family service celebration, where nearly 200 guests witnessed 24 new believers publicly declare their commitment to the Lord through baptism.
Family members gathered around the large portable pool to witness the power of God changing the lives of their loved ones. Former drug addicts, alcoholics, talented young teens and young adults, white, black and Latino were among those who went down into the watery grave and sprang forth to new life.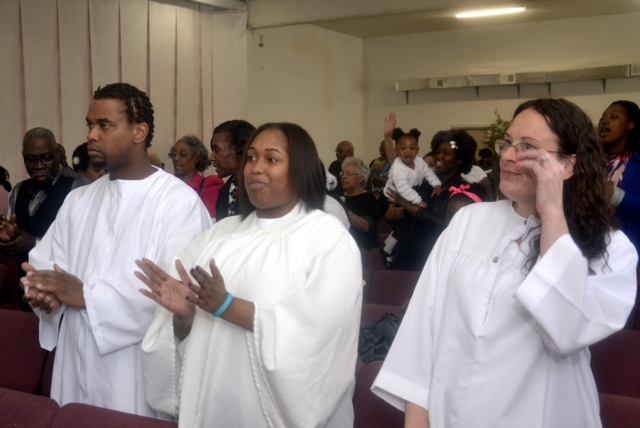 The Bethel congregation inspires youth and families in their neighborhoods through praise, worship and creative arts, breaking the chains of oppression and depression that bind so many in the inner city. Bruce Patterson, lay pastor, believes that the only way to truly win souls to the kingdom is to do exactly what Jesus did, "nothing more, nothing less." He adds, "Love them, serve them, teach them and love them some more."
Patterson and his wife, Anita, started the Bethel church as a mission group in mid-2013 with a simple desire to help those in need and a faith in God. Members say the recent baptisms were a reward for the Pattersons' passion, perseverance and willingness to continue to give to those in need.
There are an additional 21 new believers waiting to join this ministry-focused church by profession of faith. Patterson says they are growing by leaps and bounds as they serve the community each day.