Columbia Union Commemorates Centennial
November 15, 2007 ∙ by kkajiura ∙ in Columbia Union News
By LaVerne Henderson 
Photos by Kelly Butler Coe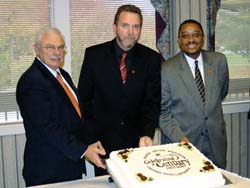 At its year-end meeting, the Columbia Union Conference Executive Committee celebrated the union's centennial with the unveiling of a three-dimensional display that features photos and mementos that chronicle the union's history. On permanent display at the union headquarters, it highlights areas central to the Adventist Church's mission including education, healthcare, publishing, community service, evangelism, and other ministries. 
The Columbia Union Conference of Seventh-day Adventists was officially organized November 17, 1907, when some 50 delegates met in Philadelphia to elect officers. At that time, there were 5,320 members, 187 churches, several conferences, and a few schools and hospitals.
A century and 16 presidents later, there are nearly 125,000 Adventist believers who worship in 700 diverse congregations within Delaware, Maryland, New Jersey, Ohio, Pennsylvania, Washington, D.C., Virginia, and West Virginia. These states are encompassed by eight conferences: Allegheny East, Allegheny West, Chesapeake, Mountain View, New Jersey, Ohio, Pennsylvania, and Potomac. Together they operate six large community service centers, 106 schools, two colleges, and two healthcare networks that serve more than half a million patients annually.
Throughout the year, union leaders have highlighted the centennial through articles in the Visitor, a video about the union's development, and presentations at camp meetings. At the year-end commemoration, it was announced that the state of Maryland issued a citation in honor of the occasion.