Adventist HealthCare Announces New Maryland Hospital
December 03, 2008 ∙ by kkajiura ∙ in Adventist HealthCare
By Jennifer Gilroy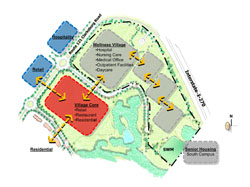 With major land-use approvals nearly complete, Adventist HealthCare (AHC) announced it will move forward with its longstanding plans to build a comprehensive medical campus and hospital in Clarksburg, Md., and will invite other healthcare providers to collaborate on the project.
AHC has already begun discussions with potential healthcare partners interested in working on the project and may reach an agreement over the next few months. Hospital officials expect to file for state regulatory approval in 2009.
"We believe the hospital and medical campus in the Cabin Branch section of Clarksburg will improve access to healthcare in the fastest growing regions of our community and be an extraordinary resource for the communities we serve," said William G. "Bill" Robertson, AHC president and chief executive officer. "Developing this project with other providers could expand the availability of healthcare services. Collaboration is a way to enhance, rather than detract from, existing healthcare resources."
AHC has worked for six years with Montgomery County planners, adjoining landowners and the community to complete the various stages of the land-use process. Plans for the 60-acre site, located at Route 121 and Interstate 270, include a 100-bed hospital, medical office buildings for physicians and outpatient medical services, a nursing home and a day care center. 
Clarksburg, along with its neighboring community to the north, Urbana in Frederick County, is experiencing rapid population growth and will need expanded healthcare services. The site is situated nearly halfway on the Interstate 270 corridor between two existing hospitals—Shady Grove Adventist Hospital to the south and Frederick Memorial Hospital to the north—which minimizes its impact on the region's existing healthcare resources. 
"Adventist HealthCare has long met the healthcare needs of residents in the Gaithersburg community," said Sidney Katz, Gaithersburg mayor. "As an organization we have found them to be open and forward thinking. Their expansion into the Clarksburg area provides an opportunity for Adventist HealthCare to leverage existing healthcare resources and to lay the groundwork for meeting the future needs of a growing region."
The healthcare campus is planned as part of a mixed use community—with active adult housing, retail and office space, restaurants, a hotel and nearly 2,000 dwelling units. It is located in an area where a hospital and all of its related facilities could be planned in advance with no adverse impact on surrounding businesses and residents. 
Read more at adventisthealthcare.com.