Education Leaders Gather for Spring Meetings
February 20, 2008 ∙ by kkajiura ∙ in Columbia Union News, Education
By Celeste Ryan Blyden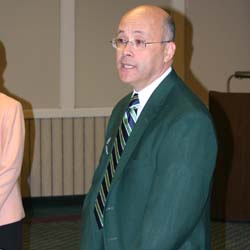 School teachers and academy principals recently met for the Spring meetings of the Columbia Union School Administrators Council (CUSAC). Chaired by vice president for Education Hamlet Canosa, EdD, along with associate directors LaVona Gillham and Ian Kelly, the meetings included two days of the Columbia Union K-12 Curriculum Committee, followed by two days of administrative meetings.
According to Canosa, the curriculum committee includes one or two K-12 teachers from each of the eight conferences within the Columbia Union territory. In addition to dealing with any curriculum items that arise, the committee provides professional growth opportunities and enrichment for attendees to take back to their respective fields.
He noted that the administrative meeting agenda included:
1) review of a proposed model for distance education through Griggs University (formerly Home Study International) that would meet as many as 200 instructional unit needs in the Columbia Union field.
(2) discussing the Early Childhood Education Care (ECEC) options proposed to the union presidents last year. CUSAC is recommending to the union's Board of Education that a part-time or full-time ECEC director be hired at the union level.
(3) adopting a new School Board Manual, which was last updated in 1997.