ASI Spring Meetings Introduce Others to Sabbath, Attracts Community Leaders
March 18, 2009 ∙ by owetmore ∙ in Columbia Union News, Allegheny East Conference
By Taashi Rowe | Photos by Chip Dizard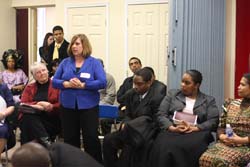 Under the theme "In Times Like These We Need a Savior," the Columbia Union chapter of Adventist-laymen's Services and Industries (ASI) recently met for their spring meetings. Held at Allegheny East Conference's Liberty church in Baltimore, the meetings featured speakers G. Edward Reid, stewardship director for the North American Division and Robert Wallace, president and CEO of the Baltimore-based BITHGROUP Technologies, Inc. 
The two days were packed with information and inspiration to keep members focused on their ultimate goal of sharing Christ in the marketplace. 
"The concerns that ASI leaders have this year were more grave than ever before, but members will never stop looking to Jesus, never stop sharing Christ, and never give up," promises seven-term chapter president Denise Hayden. 
As a way of meeting that goal, ASI members and friends distributed more than 500 invitations to the meetings around the neighborhood. They also invited local Christian businesses to set up booths in their exhibit hall. Four businesses responded to the call bringing the number of exhibits to 20. 
After hearing Reid's prophetic presentation on Sabbath morning, two visitors responded to an altar call and asked Liberty pastor Melvyn E. Hayden for more information on the Sabbath. 
Hayden said another highlight of the meeting was its Circle of Ministry where chapter members can fellowship and network. 
"There were more than 80 in attendance wanting to be inspired to do God's work," she said. "This year it brought together inspiring revelations of how God has used simple business methods and friendship to share Christ in the marketplace."
United States Congressman Elijah E. Cummings also spoke at the meetings and deputy mayor Salima Siler Marriott presented the chapter with a Certificate of Recognition from the City of Baltimore.
The offering collected at the meetings will go to assist in the funding of 10 projects.
The meetings were recorded by American Christian Ministries and are available by calling (800) 233-4450 or visiting AmericanChristianMinistries.org.
This year's national ASI convention will be held in Phoenix, Arizona, August 5-8. For more information visit asiministries.org.