Better Halfs Club Celebrates 40 Years Together
January 09, 2009 ∙ by owetmore ∙ in Allegheny East Conference
By Taashi Rowe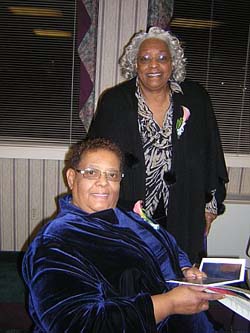 For decades members of the Better Halfs Club have met in each other's homes every first Sunday of the month to organize family activities, social functions, charitable outreach, and to provide spiritual support. Recently more than 100 people celebrated the club's 40th anniversary at the Columbia Union Conference's headquarters in Columbia, Md. 
"Believe it or not, the ladies started the club so we would have something to do while our husbands watched football," recalled Carol Wallington, a charter member and the current club president. She added that the men often joked that it was their idea to start the club. 
The club, made up of Allegheny East Conference members, soon evolved into a family club with members sponsoring camping retreats, spelling bees, and fashion shows. 
"The club gave us focus and gave us wholesome things to do," said Wallington. "We have been through so much together, we had our babies together, sent them to school, sent them to college, and watched them group up and start families of their own," 
Group members particularly enjoyed the spiritual aspect of the club. "Our aim and our goal is to be ready when Christ comes. We do social activities, but we are still supporting and encouraging each other on our Christian journey" said Wallington 
"Back in the 1970s we were the only ones who did retreats," she recalled. "In those days we stayed in cabins, not in hotels as many do now. We weren't always comfortable but we enjoyed it."
Club members also enjoy their benevolent activities that include: adopting a family and helping them with birthday and Christmas gifts; contributing to mission outreach; and supporting students at Pine Forge (Pa.) Academy, and Oakwood University in Huntsville, Ala. 
Themed "Together Through The Years" the 40th anniversary program included a slideshow of members and their families from the early days to the present; and presentations from a club member's husband and another by an adult daughter of a club member.
"Hearing from the husbands and children was the highlight of the program for me," said Gerri Davis who has been a member for 15 years. "The way they shared memories of their time in the club was so funny and heartwarming."
Wallington's daughter, Charlyce Wallington Reynolds, enjoyed her mother's club so much that she now belongs to a similar club in Ohio. 
The club is open to married and single women. For those interested in learning more, email cwallington2@yahoo.com, or contact members attending the Emmanuel-Brinklow church in Ashton, Md., and the Dupont Park, Capitol Hill, and First churches in Washington, D.C.