WAU Enactus Team Shares Christ Through Service
October 05, 2016 ∙ by vmbernard ∙ in Washington Adventist University, Education, This Month's Issue
Story by Mark Tyler
How do you help a struggling local business quickly become more competitive? Step 1: Change the name. Step 2: Upgrade the appearance.
Washington Adventist University (WAU) students are helping a Takoma Park, Md., laundry owner accomplish both steps through the school's award-winning Enactus team.
According to the organization's website, "Enactus is an international nonprofit organization
dedicated to inspiring students to improve the world through entrepreneurial action."
Enactus teams compete on regional, national and international levels by volunteering to create community development projects.
WAU is one of five Seventh-day Adventist universities in the program that boasts the involvement of more than 70,000 students, from some 1,700 colleges and universities throughout 36 countries. The WAU team of 38 students volunteered nearly 4,000 hours last year. That means each student averaged more than 100 hours of service, in addition to all of their other personal commitments and academic responsibilities.
Weymouth Spence, WAU president, says when students help local business owners succeed, it promotes the school's mantra of being the "Gateway to Service."
"Every activity of the university is tied to the foundational concept of preparing our students for not only a college degree, but also to be of value to humanity," says Spence. "Symbolically, our freshmen enter the university through the Gateway to Service to learn how one can be of service to humanity, and as graduates they exit through the Gateway to Service as competent moral leaders returning to their communities to change the world."
The Flower Facelift Project
Students have adopted a business district near the university, giving particular attention to a laundry owner facing the challenge of competing with a new laundromat nearby.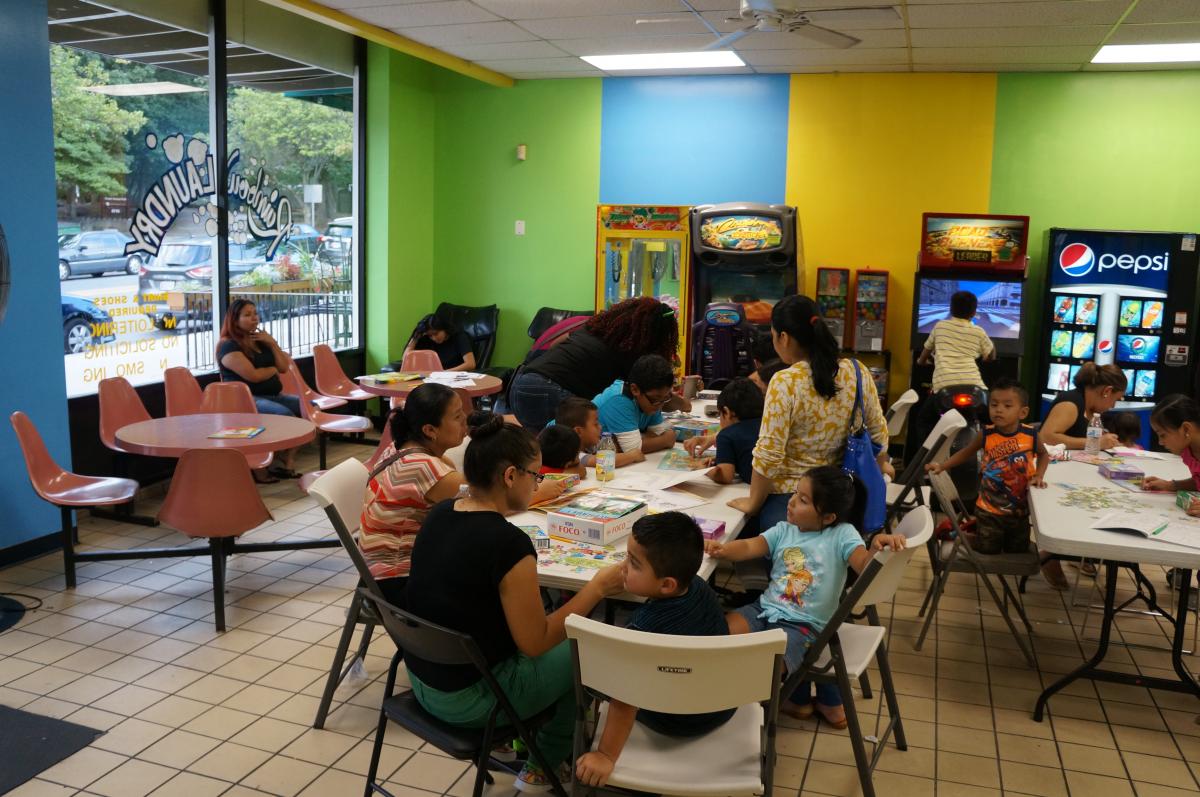 Nok Kim, 58, who owns the Rainbow Coin Laundry, formerly Spin Cycle, on Flower Avenue, says the students have been a godsend.
The Enactus team advised Kim to reinvent his business. They told him he needed to rebrand. Then they transformed the dull building in the middle of a run-down block into the bright, welcoming establishment that it is today.
"It feels like a new place," Kim says.
Students painted the building's interior and exterior, changing drab white walls into vibrant sections of yellow, blue and green. Then they deep-cleaned the floors and shined up the machines. Kim added a flat screen television, vending machines and video games.
People noticed, says Kim, telling him, "You changed something—wow!"
The students attacked the project with the fervor of a team of highly-paid professional consultants, Kim explains. "They were nice to the customers, and anything I needed help with, they helped me—from the sign to the logo," Kim says.
But the Enactus team didn't stop there.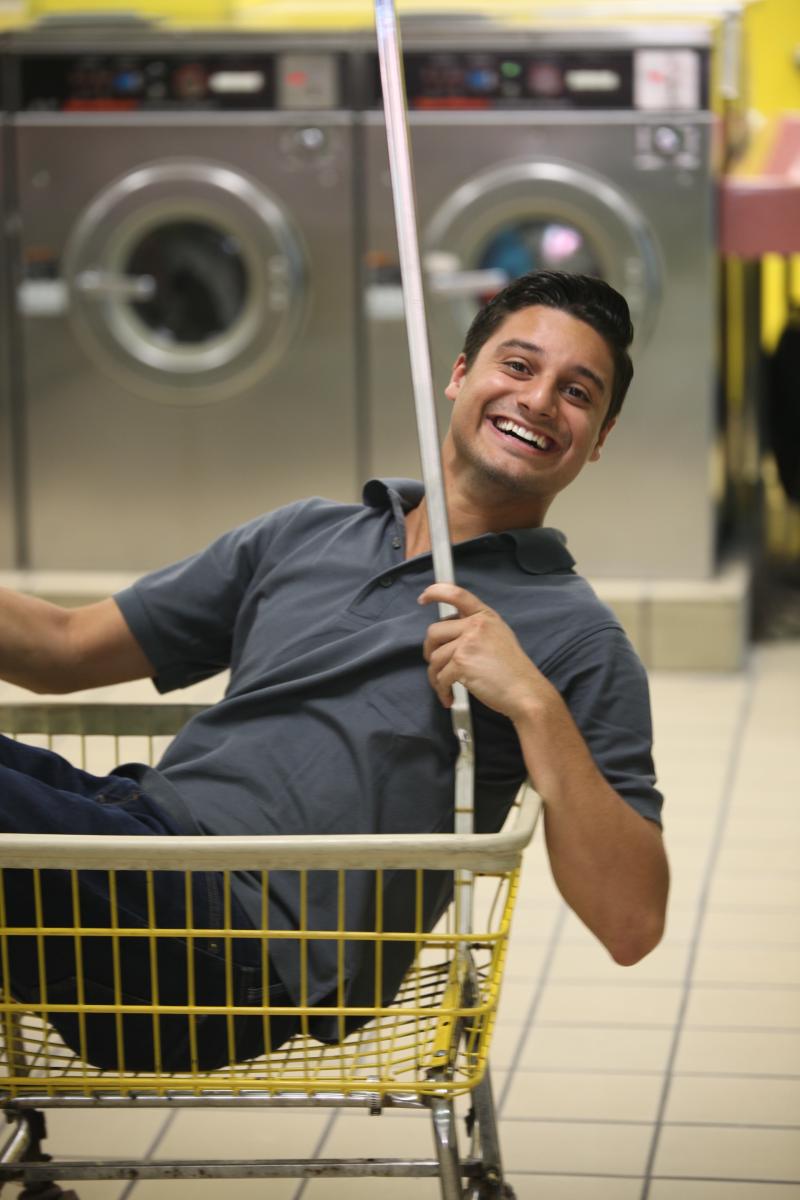 They noticed that the laundry—which is in a disadvantaged section of typically affluent Montgomery County, Md.—was always full of immigrant children waiting for their parents to wash and dry clothes. So WAU students put the children's idle hands and minds to work by establishing a tutoring program. More than 50 children now receive homework assistance at Rainbow Coin Laundry.
Levi Soares (pictured left), 23, a junior nursing major who is a past president of the Enactus team, says that this spontaneous portion of the project exceeded everyone's expectations.
"Initially that program wasn't supposed to be tutoring," Soares explains. "But we said, 'We can help the kids educationally and help the laundromat.'"
"We needed to help his business, and that just happened to be the biggest thing to boost his financials," Soares adds.
Karina Molina, 25, and her 7-year-old daughter Bryanna, moved to nearby Hyattsville last year. But they still make the approximately 30-minute commute to Rainbow Coin Laundry, in part, because of the tutoring program.
"Everything is good," says Molina, whose daughter is in the second grade.
Tanya Hayes, 21, of Takoma Park agrees. "There are laundry rooms all around, but I still come here," she says.
Winning Through Service
Kimberly Pichot (pictured below, left) former chair of the WAU Business and Communication department, who served as faculty sponsor of Enactus until recently, and oversaw the Flower Facelift and other projects, says her students have consistently done well for themselves and their school just by doing good.
"We look for needs in the community. We put together programs to address those needs, and then we do pre- and post-assessment to try to measure the impact that the students are actually having," says Pichot.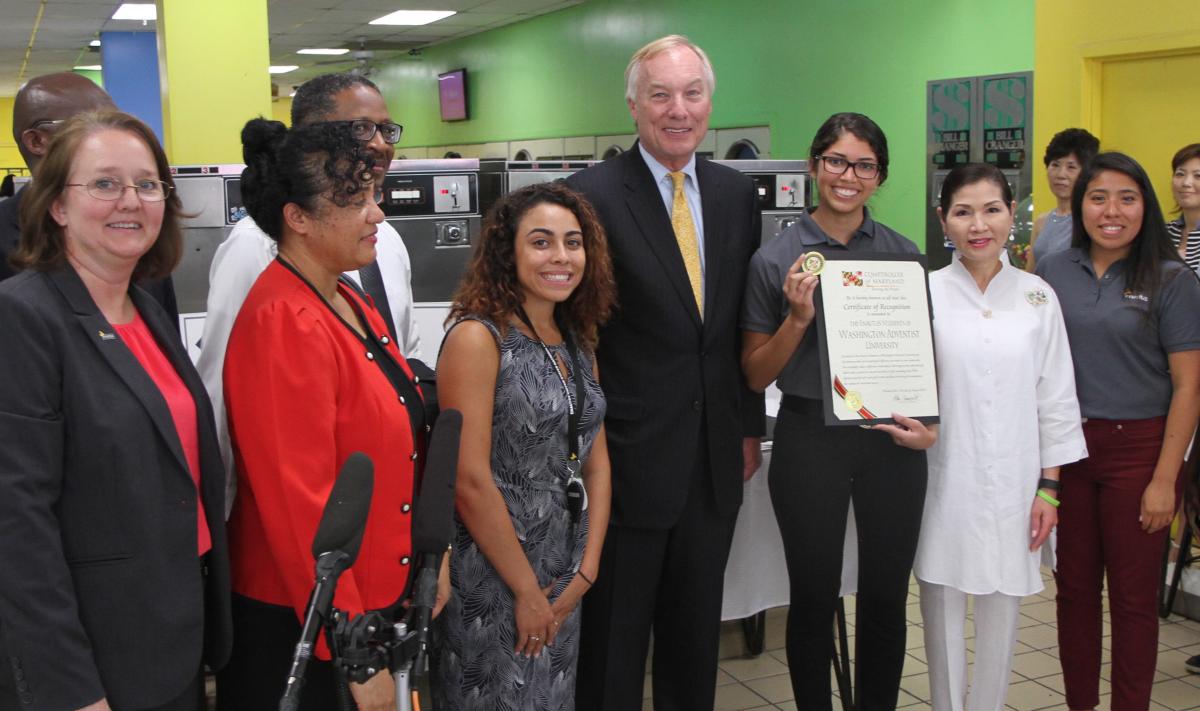 Service, which has its own intrinsic rewards, can also propel an Enactus team to award-winning success. "We take our results to competitions where Fortune 500 companies assess the results," explains Pichot.
In May the WAU team placed second in their league of the opening round at the 2016 Enactus United States Exposition in St. Louis, Mo.
This success came after advancing through the regional competition held in March in Washington, D.C., where students presented findings from the Flower Facelift and several other projects.
"I am very proud of our team," says Pichot. "As second-place recipients in the opening round, we are now classified in the top 10 percent of Enactus teams in the United States. This is the best our team has ever done, and we're very excited to continue building relationships in our community where the real impact is experienced."
Rachel Mobley, vice president of marketing communications and operations for Enactus United States, says both awards are outstanding achievements. "Washington Adventist [University] advanced out of our largest regional [competition]," Mobley explains.
WAU progressed through a total of seven Enactus regional competitions—six in physical locations and one virtual, Mobley says. "Being a regional champion and taking second in their league places them in the top 25 percent of all competing teams within the United States," explains Mobley.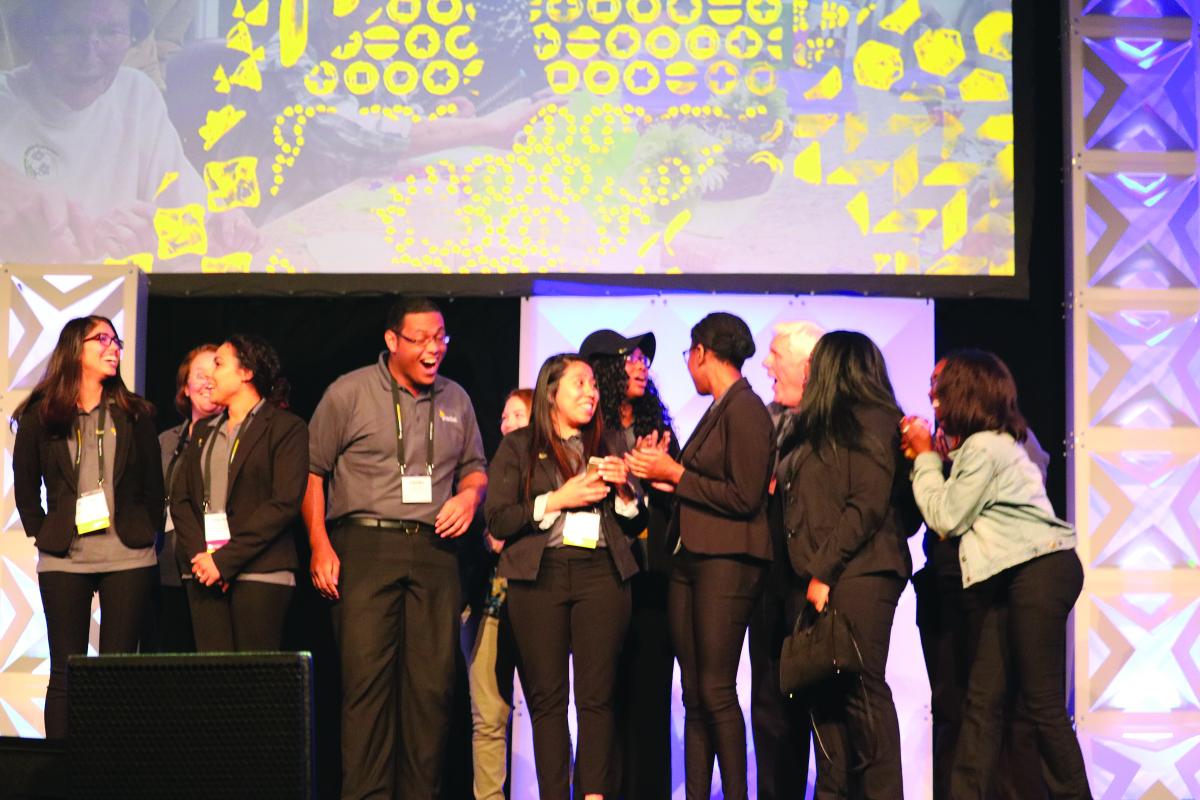 The university has also accomplished other endeavors along the way, Mobley adds.
During the 2015-2016 year, WAU (pictured above) won 1st place in the Sam's Club Step Up for Small Business Project Partnership, winning $5,000.
"This specific partnership seeks to empower underserved Main Street business owners in the U.S. to navigate the lending market and equip themselves with the skills and knowledge necessary to make sound business decisions," Mobley says. 
Additionally, the team placed third in the Walmart Women's Economic Empowerment Project Partnership. And, during the 2014-2015 year, WAU placed third in the Uncap Opportunities for Women Project Partnership.
The students have held a small business symposium on branding, helped business owners improve their marketing and developed a positive relationship with the Long Branch Business League, an association of shopkeepers in the Flower Avenue area of Takoma Park. The WAU team has also held community Christmas parties, backpack and school supply giveaways and other forms of outreach.
"Their success in competition means that the team effectively used entrepreneurial action to launch their projects, which had real measurable impact," Mobley says.
Service to God and Humanity
Spence says the Enactus goal of creating positive change in the world runs parallel to the university's mission despite the fact that Enactus is a secular program.
"Our vision at Washington Adventist University is to produce graduates who bring competence and moral leadership to their communities," Spence says. "It is important that the university is connected to the community, not only by the taxes or fees we pay, but also by the humanitarian and professional services we provide to our neighbors."
Pichot agrees, and says that students demonstrate their faith through service.
"Enactus, even though it is a secular program, we've made it a spiritual program," she says. "We have solid leaders engaged in our program, and they're going out making an impact."
Enactus gives students an opportunity to share Christ in a meaningful way.
"We are about service to humanity because Jesus' ministry was about helping people where they were—and that transformed lives," Pichot says. "I believe that is still our mission as Seventh-day Adventists—raising moral citizens, engaging minds, transforming lives."
When Education Meets Practical Application
Clarissa Machado, who is a faculty advisor for the Enactus team, says the program is a benefit both to the students and businesses.
"We get real world experience, and they get new, viable ideas," says Machado.
Although the students are unpaid, the experience is invaluable.
"Whatever they're learning in the classroom, they're applying," Pichot says. "We have turned the subject matter into something very real and practical."
Pichot says this allows students to mature both academically and professionally, which better prepares them for career success.
"They are presenting to business owners. They are dressed in suits. They know what they're talking about, and the businesses take them seriously," she explains. "The students continue to receive all of the textbook knowledge, but they go out and put it into practice."
Mobley says the "Enactus ecosystem" is a beneficial partnership between three essential entities: students, faculty advisors and business leaders.
"Collaboration between these groups is vital and part of what makes Enactus so unique," Mobley says.
Spence says learning to work with others is also part of the benefit of faith-based learning. "The utilization of the knowledge they have gained from the classroom to improve the lives of others is the direct outcome of a Christian education," he says. "We value generosity in both attitude and practice and consider higher education to be both training and an opportunity for service."
Looking to the Future
Machado says students have primarily done consulting, and she would like the next step to be helping someone achieve their dream of building a new business from
its inception.
The university president says WAU and Enactus are perfect together. "It gives me great joy to know that I am part of a system that provides Christian service to humanity. This is the value of Christian education," Spence says. "At the end of the day, this is what education is all about—engaging minds and transforming lives."
Mark Tyler, president of Tyler Enterprises, LLC, writes from Atlantic City, N.J.