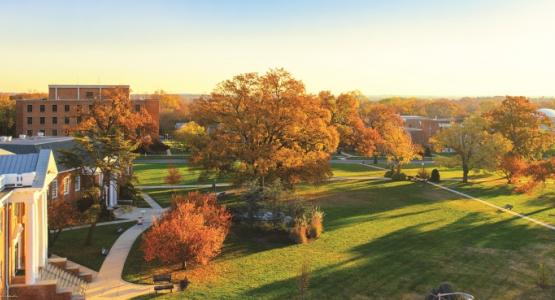 December 05, 2018 ∙ by Web Administrator ∙ in Washington Adventist University, Editorials, Education, This Month's Issue
Editorial by Weymouth Spence
Blessings abound here at Washington Adventist University (WAU) in Takoma Park, Md., where we strive to engage minds and transform lives for all of God's children.
On our campus, just minutes from our nation's capital city, this includes nearly 160 international students from more than 50 countries, including Angola, Antigua and Barbuda, the Bahamas, Barbados, Bermuda, Bolivia, Brazil, Burma, Cameroon, Canada, Cape Verde, China, Colombia, Croatia, Egypt, El Salvador, Ethiopia, Gabon, Germany, Ghana, Guyana, India, Indonesia, Jamaica, Kenya, Kosovo, Malaysia, Mexico, Nigeria, the Philippines, Portugal, Russia, Sierra Leone, Saudi Arabia, South Africa, Spain, Sri Lanka, the United Kingdom, Vietnam, Zambia and Zimbabwe.
This fall's freshman class is the largest in 14 years, and undergraduate enrollment is 10 percent greater than that of last year. In addition, total enrollment reached 1,131, the largest group of students who have matriculated since fall 2013.
LIVING THE GREAT COMMISSION
Although WAU is a Seventh-day Adventist institution of higher learning, students of many faiths express appreciation for our welcoming atmosphere, strong faculty and staff support, and the focus on spirituality and healthful life choices. This includes the vegetarian food served in our dining hall. At least one Muslim student noted with great relief that she would "never have to find pork hidden in the food." Another student in communication Professor Jarilyn Conner's class recently commented: "I like WAU because no one judges us about our religion or culture. WAU treats us as family," says Othman Aryan, '19, of Saudi Arabia.
With the growth in population and diversity, we are finding new ways to heed Mark 16:15: "Go into all the world and preach the gospel to all creation" (NIV). The way we see it, more students and a significant international presence translate into greater opportunities for mission, service, evangelism and transformation. This reality enhances educational opportunities for everyone, as individuals seek to better understand each other and the world at large. It also facilitates our desire and commitment to support the global Adventist mission to "Go and Tell," as well as the Columbia Union Conference goal to see every member "Experience the Mission."
I am proud to lead the WAU learning community, which is committed to the Adventist Christian vision of excellence and service. I am also profoundly grateful for the increasing opportunities to produce graduates who bring competence and moral leadership to communities worldwide.
We solicit your continued prayers as we navigate higher education in this dynamic context.