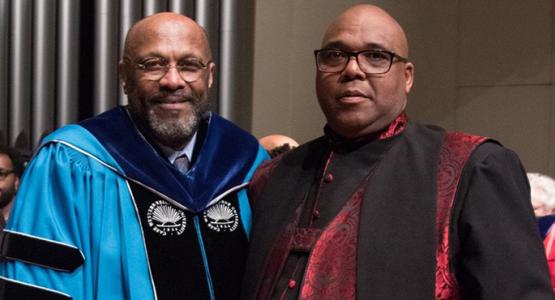 Pastor Inducted Into MLK Jr. Board of Preachers
July 19, 2018 ∙ by rbacchus ∙ in Allegheny West Conference
Story by Bryant Smith
Jerome M. Hurst, senior pastor of the Southeast church in Cleveland, Ohio, and the Allegheny West Conference's Adventist Community Services and public affairs and religious liberty leader, was recently inducted into the 33rd Martin Luther King Jr. Board of Preachers of Morehouse College, based in Atlanta.
The Board of Preachers is comprised of ordained clergy from the Christian tradition, as well as faith leaders, such as rabbis, imams, priests and ministers. This wide array of leaders from diverse global, spiritual and ethical traditions exhibit a commitment and promise of using their religious positions of leadership to promote peace, tolerance, interfaith understanding, healing, reconciliation, nonviolence, moral cosmopolitan social progress, agapic justice and care for the ecosystem.
Hurst shared about the event with his congregation, acknowledging he did not get there by himself. "A wise man once said, if you ever see a turtle sitting on top of a fence post, you know somebody picked it up and placed it there. Turtles belong on the ground. I'm just a turtle," he explained.
He went on to say, "I thank you, my church, for allowing me to get involved and open up the church doors to the community. It's because of you that I was able to receive this award."
Cecily Bryant, the communication director of the Southeast church, says, "He gave honor and glory to the Lord and gratitude to individuals who have supported him."