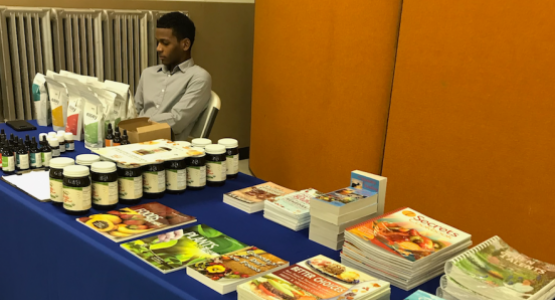 Glenville Present Truth Church Lends a Healthy Hand
November 26, 2019 ∙ by rbacchus ∙ in Allegheny West Conference
Story by Benia Jennings
Aiming to reach their local community with the biblical health message, Allegheny West Conference's Glenville Present Truth church in Cleveland—just blocks away from the world-renowned Cleveland Clinic—has made health and wellness the mission of their church.
"There have always been high rates of noncommunicable illnesses such as diabetes and high blood pressure in communities of color, but unfortunately many people don't know that these diseases can be prevented and even reversed in some cases," says Eugene Anthony, Glenville's senior pastor. "Our job is to share that knowledge that God has given us to educate our community. We want people to see God's love and to know that He wants us to prosper and to be in good health."
The church partnered with the Eden Lifestyle Group in hosting a monthlong Community Health Expo at the Better Living Health Center located on the church grounds. Community members participated in healthy cooking classes and natural remedy workshops. Health care professionals administered health screenings for blood pressure and blood sugar.
"It's time to take heed to biblical counsels and examples regarding the care for our bodies," says Anthony. "We want to see our members and guests improve their health and well-being so that we all can experience the richness of life God has promised us."