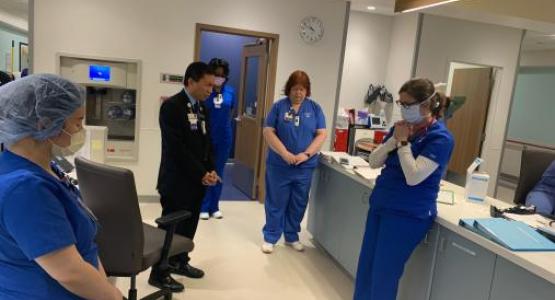 Adventist HealthCare On the Front Lines to Serve Community
March 26, 2020 ∙ by vmbernard ∙ in Coronavirus Pandemic, Adventist HealthCare
Story by Adventist HealthCare Staff
As a healthcare organization serving the Washington, D.C., region, Adventist HealthCare is on the front lines during this uncertain and difficult time, providing care and comfort when people need it the most. The Mission of Adventist HealthCare, to extend God's care through the ministry of physical, mental and spiritual healing, has never been more important as we face this challenge of caring for the community we serve.
Adventist HealthCare has taken unprecedented measures to prepare our facilities and our caregivers. This has required extensive collaboration among our teams of caregivers, facilities and with regional, county and state agencies. Our organization has been forward-thinking, innovative and resourceful to continue our healing work.
"I want to thank our nurses, doctors, chaplains and all the Adventist HealthCare team members for their courage and compassion as they continue to ensure the safety of and extend God's care to our patients and community. There are many long days behind us and in front of us. Even as we look forward to getting back to our daily lives, we are forever changed and will remember how we came together to support our patients, community and each other," says Terry Forde, President & CEO of Adventist HealthCare.