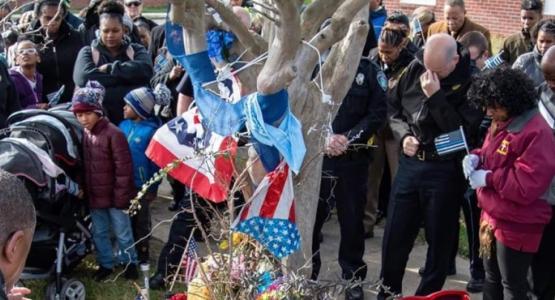 Calvary Comforts Police Department Amid Tragedy
May 20, 2020 ∙ by Web Administrator ∙ in Allegheny East Conference
Story by LaTasha Hewitt
After hearing of the tragic loss of Officer Katie Thyne, killed in the line of duty just blocks from their church, members from the Calvary church in Newport News, Va., went into action. Thyne had stopped a vehicle for a drug investigation. When she asked the driver to get out of the vehicle, the driver accelerated, dragging Thyne approximately one block and pinning her between a tree and the car doors. "When I heard about the incident, I just knew we had to do something," says T. DuWayne Privette, the pastor of Calvary.
Michael Brinkley, an elder at Calvary, suggested that they host a prayer service and memorial walk to express their condolences and support their local police department. They had three objectives: to let the community know they care about lives; to communicate to the Newport News Police Department that their services are appreciated; and to spearhead an event that would bring together police, clergy and citizens for a common cause.
During the event, attendees walked from the church to the memorial site, located on 16th Street. Members offered prayers and words of comfort to the grieving family and police officers in attendance.
"Jesus said in Matthew 5:16, 'Let your light so shine before men, that they may ... glorify your Father in heaven.' That is what we seek to do in Newport News," shares Privette.