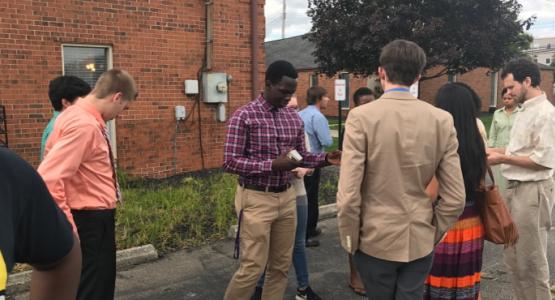 Central Church Fulfills a Christian Calling
March 31, 2020 ∙ by Web Administrator ∙ in Allegheny West Conference
Story by Benia Jennings
It's 3 p.m. and 15 cars fill the parking spaces at the Central church in Columbus, Ohio. Teenagers, young adults and older adults gather together, ready to serve the large homeless population on the Westside of downtown Columbus. The group carries hot meals, clothing, hygiene packages, literature, Bibles, bus passes and gas cards with them, and they make it a point to pray with everyone they meet.
Ephraim and Betina McNeil Laidley started Food Fight—the church's outreach ministry to the homeless— a few years ago out of their love of service and outreach programs. They're both dedicated and invested in this project, and have a devoted group working with them. In fact, members from sister churches in the Allegheny West Conference and Ohio Conference complete the ministry team.
According to the Laidleys, the thing that keeps them going are the testimonies of the people they serve. Some people have never heard of Seventh-day Adventists prior to their interaction with Food Fight. "Above all, it is so rewarding," states Betina.
"Food Fight is the epitome of the of the gospel in action," says Marc Fequiere, Central church's communication director.