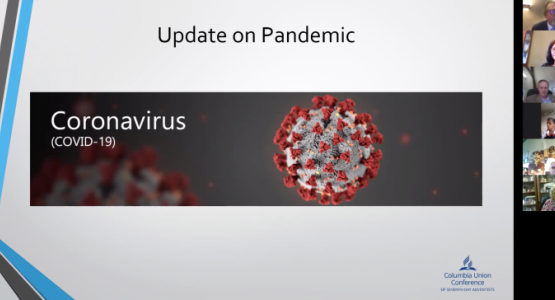 At Year-end Meeting, Union Reports Ongoing COVID-19 Impact on Ministry, Education, Health Care
November 12, 2020 ∙ by vmbernard ∙ in Columbia Union News
Story by Visitor Staff
Columbia Union Conference President Dave Weigley opened the Columbia Union Executive Committee year-end meeting today, noting that mission is continuing despite coronavirus pandemic restrictions. He also shared that the union leadership is looking forward to celebrating 2021 as the Year of the Bible, with resources and a special event planned in February.
The pandemic's impact on ministry was seen in lowered education enrollment, layoffs of 10 educators and changed plans, but members' dedication to mission was also seen through innovative evangelism, church planting, health care and more.
Emmanuel Asiedu, union treasurer, reported a .94 percent decrease in tithe for the current period as compared to last year, noting he had expected a much bigger drop due to the pandemic. "These losses are way better than what we were expecting. Our members have really stepped up in this COVID-19 crisis," he said.
During the meeting, members elected Rick Remmers as the union's new executive secretary. He'll transition from his position as Chesapeake Conference president in January when Rob Vandeman retires.
Terry Forde, CEO and president of Adventist HealthCare, and Fred Manchur, CEO of Kettering Adventist HealthCare, shared how their organizations, headquartered in Maryland and Ohio, respectively, continue to care for the physical and spiritual health of patients, noting improved treatments and outcomes for the many coronavirus patients who continue to seek care at their hospitals.
In his devotional message, Weymouth Spence, president of Washington Adventist University, reminded attendees to reach up vertically for God before reaching out horizontally to others for help.
"Friends don't depend on some human to determine or recognize your value," said Spence. "[It's] great if that happens, but just remember you are a child of God and that makes you a child of divinity."
Committee members voted to adopt five goals outlined by the Columbia Union Task Force on Race, Equity and Inclusion, which was commissioned last June, following the wrongful death of George Floyd and other unarmed black citizens. The adopted goals, recommended by the union's President's Council, will further enhance and build upon grassroots initiatives and promote dialogue and education to facilitate change. The goals are:
Embrace, nurture, promote and portray a culture that values, represents and celebrates the union's diverse heritage and the richness of its diverse membership.
Use a biblical, historical and prophetic perspective to educate members on the issues and impact of racism on mission and ministry. Promote God's ideals and call for harmony, equality, unity in diversity and inclusion.
Facilitate increased collaboration between state and regional conferences, particularly in areas of geographical overlap.
Provide educational opportunities, greater understanding, an exchange of information and ideas, and a platform to nurture acceptance and understanding of the history, experiences and contributions of various cultures and faith traditions.
Create relationships within the communities where our organizations are located. By building relationships, we become trusted partners with leaders of community organizations, thereby increasing our effectiveness in addressing their relevant needs.
Donovan Ross, vice president for education, reported an enrollment drop of about 1,000 students this school year, due to the pandemic. He also noted an increased need for early childhood development centers in some areas, which, along with schools, have been able to support local families by providing supplies, aftercare and even food at some locations.
He also noted the need to continue to monitor and support the mental health of students, some of whom are studying in virtual-only classrooms. In addition, he expressed continued dedication to professional development of staff and introduced new priorities of inclusion, diversity and equity.
"Happy to say we're blessed with over 700 educators who are working every day to help our students to discover and nurture a lifelong encounter with Christ, not just for today, but for eternity," Ross said.
In her report, Celeste Ryan Blyden, vice president for Strategic Communication and Public Relations, gave a sneak peek at three resources to be released in 2021—the Union's Year of the Bible—when members will be encouraged to engage a yearlong focus on Bible reading and study. She noted members will receive Words of Life, a devotional book written by members, students and leaders sharing favorite Bible verses, testimonies and stories. Members will also be inspired by short videos from Steve Carlson, chaplain at Kettering College, and through the union's 2021 calendar that features a Bible reading plan.
Frank Bondurant, vice president for Ministries Development, said that in spite of the pandemic, our churches continue to gather, some virtually. "COVID-19 has caused us to reinvent how we experience the mission."
He reported that Columbia Union churches and conferences have received $1.2 million in donations that will help fund mission. He also reported that some 9,000 individuals registered for Forecasting Hope, a digital evangelism event hosted by the Chesapeake Conference and SermonView. Sixty-seven churches in several conferences across the union participated in the divisionwide event. "This seems to be the way to go in the future—to collaborate with each other, share resources and do collaborative evangelism," Bondurant noted.
Read these articles from the November/December 2020 Visitor: