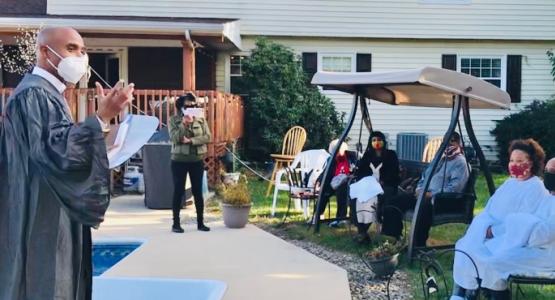 February 08, 2021 ∙ by Web Administrator ∙ in Coronavirus Pandemic, Allegheny East Conference
Story by LaTasha Hewitt
Toward the end of 2019, Minnie Redcross, one of the matriarchs of the Hillside church in Harrisburg, Pa., passed away. Among those present at her funeral was her great-great-niece, Dereasha Leaks.
At the service, Leaks felt impressed by the Holy Spirit that she needed to return for a Sabbath worship service. Shortly after, she began attending services regularly. Her husband, Kevin, also enjoyed attending, and soon they began studying with one of the church elders and his wife. Eventually, Leaks decided to fully embrace the Sabbath message and requested to be baptized.
However, due to the pandemic, the church began worshipping virtually in March, and the precautions associated with the pandemic made the logistics of a baptism difficult. Hillside Pastor Donald McKinnie asked Johnny Vachon, a church member who owned a pool, if he would be willing to host a baptism. With safety protocols in place, the baptism went on as planned.
"It was my privilege to baptize the Leaks family," says McKinnie. "They have kept the faith and continue to grow in the Lord. Heaven is rejoicing, and so are we."