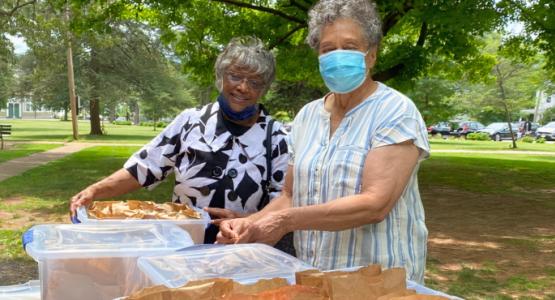 Smyrna Church Launches Outdoor Small Group Ministry
October 19, 2021 ∙ by Web Administrator ∙ in Allegheny West Conference
Story by Benia Jennings
Early this summer, the Smyrna church in Lynchburg, Va., began holding outdoor Sabbath worship services at Miller Park—one of the city's largest public spaces. Their presence began drawing numerous visitors.
"We had full worship services, beginning with Sabbath School, where the public could walk up and listen to the service," says Ian Jerome, lead pastor. "Without having done any advertising, people just came."
The church plans to use these park sessions as a means of moving forward in evangelism. Jerome says they are currently reading the book of Acts. "[Acts 2] talks about the church growing daily by small group ministry. We believe that by being in the park and visible to the public ... they will want to learn more. We've been encouraging our members not to allow anyone to leave unattended, and that's [why] our small group ministry is growing."
During the worship services, the church sets up various tables for visitors to access evangelism resources. Jerome believes that having a table where visitors can receive information while interacting with members creates an opportunity to assess each visitors' needs and extend an invitation to an evening concert or Bible study in the park. "The testimonies and experiences have been wonderful. We've just voted to have four more sessions in the park before the year is over," Jerome shares.