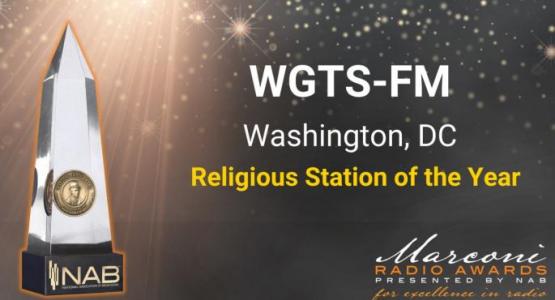 WGTS Wins Two Marconi Awards
November 17, 2021 ∙ by vmbernard ∙ in WGTS
Story by WGTS Staff
WGTS 91.9 has received two of radio's highest broadcast honors. In a virtual ceremony on Wednesday, Nov. 10, the National Association of Broadcasters gave awards to the best stations across the country. In August, the NAB narrowed the list down to the top five nominees in each category.  WGTS received awards for "Religious Station of the Year," as well as "Radio Podcast of the Year" for the podcast "We Need to Talk," hosted by Claude Jennings and Jerry Woods. The podcast addresses issues of race in America and emphasizes bringing people from different backgrounds together.
"WGTS 91.9 has gone through a lot of changes in the last decade. However, one thing that hasn't changed is the dedication to making our community a better place to live by both the staff and the listening family," said WGTS president and general manager Kevin Krueger. "During the pandemic, WGTS served as a conduit to bring people together, even if it was virtually.  We recognize that God has blessed us, and many stations like ours, to have a platform to encourage people during challenging times.  It's an honor to do that every day."
Since 1989, the National Association of Broadcasters has selected top stations in the country using a taskforce of broadcasters. Winners are chosen by the NAB Marconi Radio Awards Selection Academy.  The awards are named after inventor and Nobel Prize winner Guglielmo Marconi and are given to radio stations and outstanding on-air personalities to recognize excellence in radio.