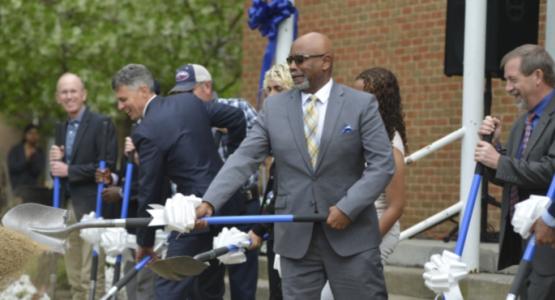 Zirkle Gym Groundbreaking: To God Be the Glory!
July 26, 2021 ∙ by Web Administrator ∙ in Potomac Conference, Education
Story by Janel Haas Ware
Keynote speaker Charles A. Tapp, president of the Potomac Conference and chairman of the Shenandoah Valley Academy (SVA) Board of Trustees, shares a message (excerpted) at the Zirkle Gymnasium Renovation Groundbreaking Ceremony, May 14, 2021:
Reflecting upon the impact Shenandoah Valley Academy has had and continues to have on the lives of students, these words of Ellen White came to mind: "Higher than the highest human thought can reach is God's ideal for His children" (Education, p. 18).
"Higher than the highest." If it is already the highest, then what can be "higher than the highest"? The message White desired to convey was limitless possibilities, made clear when she adds, "Before the student there is opened a path of continual progress." In other words, never-ending possibilities. This is the goal of SVA: to provide students with limitless possibilities. "Higher than the highest."
The highest she refers to is that of godliness and god-likeness. Yes, we want our students to be proficient in the rigors of education, but the primary goal is to educate them in what it means to be a follower of Christ—to be a disciple. Since 1908, the vision of SVA is threefold: to serve Christ; to value this thing we call knowledge; and to accept a life of service. Again, God is calling us to "higher than the highest."
This is made possible by the dedication of faculty and staff who are committed to the mission and vision of providing students with limitless possibilities inside and outside of the classroom. Then there are generous Alumni and Friends whose unwavering financial support make it possible to declare the bold promise—as an institution and as a board—that no qualified student will ever be turned away from our campus because of the lack of finances. And God's people said … [Amen]! Again, living up to the ideal "higher than the highest." I'm not sure any other school in the entire Seventh-day Adventist system can make a claim such as that, that no qualified student will ever be turned away because of their financial situation.
Now the evidence of this support is seen again in the Zirkle Gymnasium Renovation Project that will provide a new entrance and lobby with a reception and concession area, new restrooms and locker rooms and a terrace with a firepit for evening gatherings. It makes you want to come back and be a student again, doesn't it?
I would be remiss if I did not acknowledge that this is the first new building at SVA in 45 years, the most significant funding required for a building project in SVA history. It is the result of the generous contributions of Alumni and Friends—96 percent of gifts from alumni—that the project is fully funded once all gifts and pledges have been received. This means SVA will incur zero debt, which allows us to remain a 100 percent debt-free school. To this I simply say: To God be the glory! "Higher than the highest human thought can reach is God's ideal for His children."