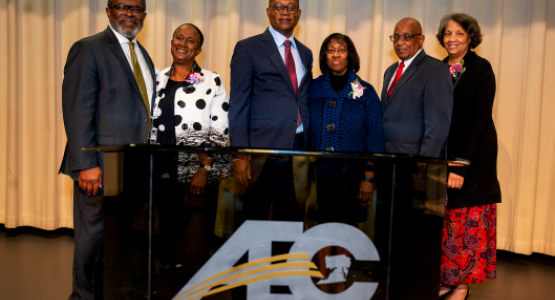 Allegheny East Conference Elects New Leadership Team
October 18, 2022 ∙ by vmbernard ∙ in Things You Should Know, Columbia Union News, Allegheny East Conference, This Month's Issue
Story by LaTasha Hewitt
During Allegheny East Conference's Second Quinquennial Constituency meeting on October 15, delegates and guests reflected on the conference's challenges and opportunities over the last term, under the theme, "More than Conquerors." 
During the meeting, held at the Metropolitan church in Hyattsville, Md., delegates elected Marcellus T. Robinson as president and Gary Wimbish as vice president for administration. Lawrance E. Martin was re-elected as vice president for finance. 
Upon being voted, Robinson stated, "I want to humbly thank you for this opportunity. By God's grace, I look forward to serving you as we work together to do God's will."
Anthony Medley, one new departmental leader, joined the team as the new health director, replacing Leah Scott, who retired.
Pete Palmer, who served as president following Henry J. Fordham, III's tragic death in 2021, shared a video of Fordham, as well as a video report of interviews with departmental leaders and a video tribute to Scott.
AEC and Columbia Union Conference leaders expressed appreciation to Pete Palmer and his wife, Dahlia, for their service to the conference for the past year. 
Robinson's video report highlighted the growth and dips in membership over the term. Martin began his report with an animation that explained how tithe dollars are used, which he followed up by highlighting how the conference remained financially vibrant during the pandemic, despite predictions for the contrary.
Delegates also voted on changes and made recommendations to the bylaws, as well as listened to and voted a report from Pine Forge Academy (Pa.). Visit visitaec.org/constituency to view video presentations from the meeting. 
Leaders also voted in include: LaTasha Hewitt, communication director; Patrick Graham, youth and children's ministries director; John Alberty, superintendent of schools; Jackson M. Doggette, Jr, Esq, general counsel and public and religious liberty director; Gary Wimbish, VP for admin; Marcellus T. Robinson, president; Lawrance E. Martin, VP for finance; Anthony Medley, health ministries director; Gene Donaldson, ministerial director; David Defoe, relationship ministries director; Cynthia Poole, women's ministries director.
​