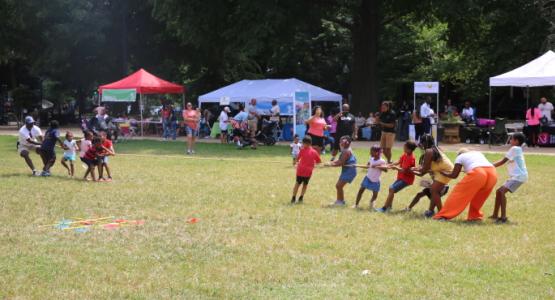 Capitol Hill Church Hosts Community Fun Day
November 15, 2022 ∙ by Web Administrator ∙ in Allegheny East Conference
Story by LaTasha Hewitt
The Capitol Hill church in Washington, D.C., recently hosted a community fun day at the nearby Lincoln Park. Themed "One Love," the event was designed to bring the community together for positive interaction and fellowship.
Featured speakers included Mark Batterson, author and pastor of the National Community Church (NCC) in Washington, D.C., and NFL legend Darrell Green. "The 'One Love' message is critical because God loves us all," shared Batterson. "We tend to focus on the things that divide us, but the reality is that the image of God in me greets the love of God in you."
Green hoped that his message helped attendees recognize the purpose of the blessings God allows. "God wants us to use the resources and the platforms we've been given to present the gospel to a dying world," he said.
Among several musical selections, the Capitol Hill praise team and band shared their God-given talents with the attendees.
Guests also had the opportunity to visit several booths and tents, including the listening, prayer, and health screening booths. Children enjoyed arts and crafts stations, a puppet show, tug-of-war and other fun activities. Attendees also had the opportunity to participate in community service projects, cooking demonstrations, food and smoothie testing, and fitness exercises.
"The event was a blessing because we were able to share God in a new and fresh way," shares Emil Peeler, pastor of Capitol Hill. "I believe God wants us to go outside the walls of the church and make His name great."