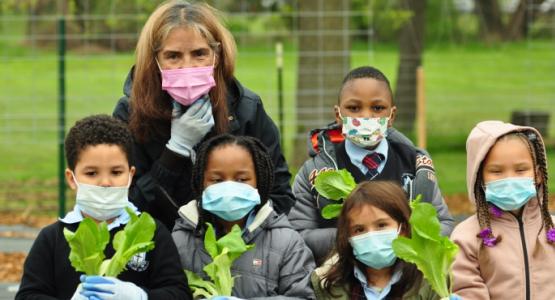 Garden Grows Opportunities for Students
July 13, 2022 ∙ by Web Administrator ∙ in Pennsylvania Conference
Story by Tamyra Horst
Huntingdon Valley Christian Academy is situated on a large plot of land in the Philadelphia suburbs. School supporters have long considered creating a garden on a portion of the property to benefit the students and community. That desire became a reality this year with the school board's approval and help from more than 20 local church volunteers and students who dug, built and planted.
Local businesses donated $2,000 worth of materials. Blue Mountain Academy in Hamburg donated raspberry plants, which now line much of the perimeter of the garden. The 2,000-square-foot plot includes two garden boxes where students planted kale, lettuce, spinach, Swiss chard and strawberries for a spring crop. The space also includes tomatoes, cucumbers, peppers, eggplant, squash and zucchini, with corn growing outside of the fenced area.
Students are encouraged to actively participate in gardening to broaden their perspectives and cultivate their interest in nature. Produce is available for students and their families with the remainder sold at a fruit stand as a fundraiser.
"A lot of good things come out of the garden and gardening," shares Matt Pettengill, who together with his wife, Jennifer, started the project. "Not only growing good food but children getting their hands in the soil and watching plants grow provides them with practical lessons for life."
Jennifer adds, "We believe the school garden is going to be a blessing to the local community through the sale of fresh produce. We hope this will bring in additional funds to benefit the school as well."