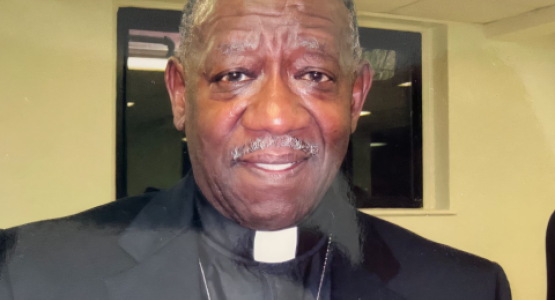 Lutheran Minister Baptized at Blessed Hope
May 17, 2022 ∙ by rbacchus ∙ in Allegheny West Conference
Story by Benia Jennings
When Stephen Lewis became the pastor of Allegheny West Conference's Blessed Hope church in Cincinnati, he soon learned that he was not the only minister in his congregation. James Matthews, former pastor of the Roselawn Lutheran church whose building Blessed Hope purchased and now occupies, regularly attended services.
It all began when the Maranatha and Emmanuel churches merged into one congregation, choosing Blessed Hope as their new name. While looking to purchase a larger facility, one of the Maranatha church elders met Matthews, and they instantly clicked. Matthews willingly negotiated a fair price for the purchase of the Roselawn church. He lived just a short distance from the church and continued to attend worship services in his former church building—now on Saturday instead of Sunday.
"Matthews expressed an interest in becoming a Seventh-day Adventist. When I found out he was not a member, I intentionally shared messages that emphasized our fundamental beliefs during Wednesday evening and Sabbath sermons," says Lewis.
"After presenting 12 weeks of these messages," he continues, "our entire church went on a 21-day fast. The fast was threefold: those who were meat-eaters went 21 days without meat; those who were vegetarian went 21 days vegan; and those who were vegan committed to 21 days of eating raw foods. Matthews was a meat-eater but chose to go vegan for the fast."
Matthews had a scheduled doctor's appointment that coincided with the end of the fast. He later shared the results of the visit with Lewis. "His blood tests left his doctors amazed at his blood sugar, cholesterol levels and overall health. They asked what he had done to cause the change. As a result, he fell in love with our health message. He and his wife have continued to embrace their newfound plant-based lifestyle and diet and reported losing over 30 pounds as a result," says Lewis. "Not long after, I began talking to him about being baptized, and his response was, 'I was waiting for you to ask; my wife and I want to be a part of the next baptism.'"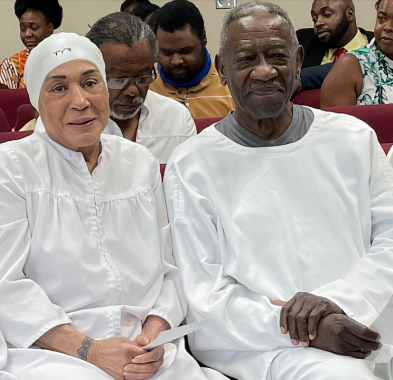 After a series of doctrinal studies, Matthews and his wife, Diana, got baptized (pictured). He is now an active member and powerful influence in the church. Lewis says, "He is one of our local elders at the church and organizes prayer meetings and Bible studies. I've often noticed the way he looks at our Bible studies; it's as if he's handling bars of gold. His appreciation for the truths he discovered rekindled my and the other members' desire to study the distinct beliefs of our church."
Lewis believes there is much that churches can glean from Matthews' experience in becoming a new Adventist. "I believe people, even clergy, are interested in learning what the Bible teaches, which lines up with what we believe, as our doctrinal teachings come directly from the Bible," he says. "There are many sincere ministers of the gospel of other faiths who are hungering for more."