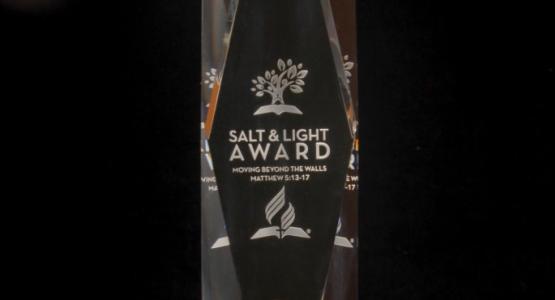 Potomac Conference Establishes Salt and Light Award
November 15, 2022 ∙ by Web Administrator ∙ in Potomac Conference
Story by Debra Anderson
The Potomac Conference is recognizing eligible churches, schools and other ministry institutions for the innovative ways they are moving beyond the walls in service to their communities. Throughout the conference territory, local pastors are engaging their members, educators are involving their students, and organizations are linking with their supporters to expand their wit, wisdom and wherewithal to help those in need.
"Moving Beyond the Walls" has been the conference's focus since March 2021. Subsequently, members have focused on ministering in novel ways. As a result, conference administrators decided to recognize two institutions by honoring them with the Salt and Light Award.
The first awards were given to the Beltsville (Md.) church and the Olney Preparatory Adventist School (Md.). Beltsville church was recognized for its many years of providing food, clothing and medical services to the local community. The Olney school received its award for collecting blankets for Project Linus, an organization that provides handmade blankets to children in need.
Charles A. Tapp, conference president, says that moving beyond the walls is rooted in Matthew 5:13 when Jesus calls for His followers to be the salt of the earth. "As salt serves no purpose remaining in the shaker, neither do we as the church if we are content with merely remaining behind the walls of our buildings and institutions," he says. "We must move within the community to find and address their needs if we are to be effective ministers of the gospel."