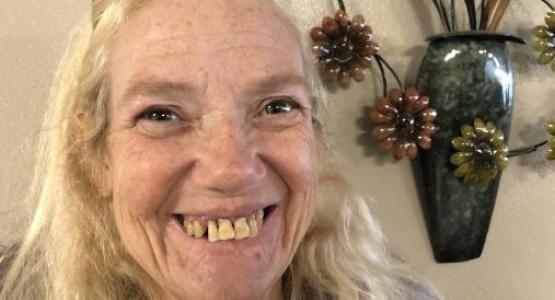 Sharing the Gospel Through a Pantry
December 05, 2022 ∙ by rbacchus ∙ in Pennsylvania Conference
Story by Tamyra Horst
Dawn Penatzer frequently stopped by the food pantry outside of Pennsylvania Conference's Simple Way mission group in Carnegie, Pa.
"Often, she would find just what she needed. Maybe it was a packet of Ramen noodles or a bottle of shampoo," says John Kent, pastor of Simple Way. "One evening, Penatzer came to the cupboard just as we were getting ready for prayer group. ... We chatted for a few minutes, and then I invited her to join us for the prayer time. Pausing for a second, she agreed to come in."
From that moment, Penatzer began attending regularly. When Kent invited her to study the Bible, she immediately agreed. "Dawn was hungry to learn from the Bible. She devoured the lessons. She embraced the truths she found and soon asked to be baptized. What an awesome privilege it was to immerse Dawn in the baptismal waters as she took this step of devotion to Jesus," Kent says. "Now, Dawn is a wonderful, devoted follower of Christ. She leads worship and will soon become a group teacher. I have never met anyone who faces challenges and maintains such a cheerful heart. Her life is hard, but in the strength of Jesus, she keeps pressing forward to love, serve and honor Him."
Penatzer shares, "The pantry is my miracle cupboard. I came looking for food, and I found a family."
Kent notes, "Sometimes something as small as a food pantry serves far more than food. Dawn's deepest hunger was for a family to love and care for her."
The Simple Way's food pantry is just one example of how churches are connecting with their communities in vital and inviting ways—showing sympathy, meeting needs, winning their confidence and then inviting them to follow Jesus (see Ellen White's book, The Ministry of Healing, p. 143).