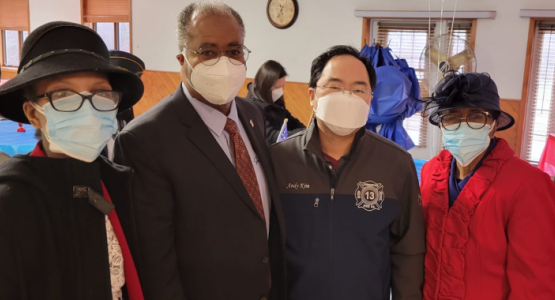 Willingboro Church Hosts Veteran's Luncheon
June 08, 2022 ∙ by rbacchus ∙ in New Jersey Conference
Story by Benia Jennings
The mission at New Jersey Conference's Willingboro church is "[to serve] the community with love and compassion." On Martin Luther King Jr. Day, they were able to do just that.
In collaboration with the Food Bank of South Jersey, Willingboro provided a choice of vegetarian or nonvegetarian cuisine and a Tribute Service for veterans at the Foster Military Lodge. Attendees included guest speakers Andy Kim, a New Jersey congressman, and Kaya McIntosh, mayor of Willingboro, who gave speeches affirming and thanking veterans for their selfless service to our country. Bruce A. Banner, pastor of Willingboro, paid tribute to the honored soldiers by singing, "Lift Every Voice and Sing."
Representatives from the Food Bank of South Jersey gave a brief nutritional talk and a live cooking demonstration on barley jambalaya. This dish was included in each to-go meal package, as well as the ingredients for recipients to prepare it at home. In addition, attendees received an Adventist Community Services gift bag with Steps to Christ, various tracts, personalized thank-you cards made by the Willingboro children and a collectible church keychain.
Member Kellie Ashlock shares, "My son and I had a nice time making cards for the veterans ... as we wanted to help them feel appreciated for the service they provided."
Tricia Yeo, representing the Food Bank of South Jersey, adds, "Willingboro ... does an amazing job in bringing the community together."