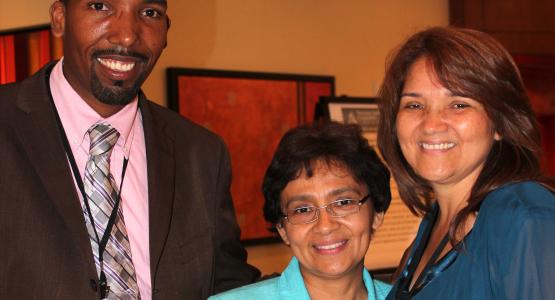 Potomac Members Help Spanish-Speaking Students Earn GEDs
April 01, 2014 ∙ by Anonymous ∙ in Education, Potomac Conference, This Month's Issue, Uncategorized
Story by Taashi Rowe
Yair Zapata, Lucia Arevalo and Claudio Pretel teach GED classes for Spanish speakers around Northern Virginia.
When a teacher asks a student to stay after class, it's not generally good news. But for Claudia Pretel, who teaches a GED class for Spanish speakers, this was her chance for ministry. After class, the gentleman was apologetic and expected to be reprimanded as he had not been paying attention in class and had not done well on the homework. Instead, Pretel told him she was worried about him and asked if she could pray with him.
"He started crying," she recalled. "He told me that his wife was dying. I asked him if I could hug him. The Holy Spirit gave me the words to talk to him. I told him that God loves him and his wife. I prayed for him, gave him a verse for the Bible and told him to buy his wife flowers and tell her that he loves her."
The man said he had been in the United States for 18 years and no one had ever spoken to him the way that Pretel had. At the next class, the gentleman was smiling. He had good news. The doctor told them that his wife would be fine. She had improved so much that she was even able to join him at his graduation ceremony.
These are just some of the stories that Pretel hears every day while she carries out this ministry that God has laid on
Claudia Pretel (right) poses for a photo with a student.
her heart. Pretel, whose husband Olives Villamizar pastors Potomac Conference's Bristow, Culpepper and Bealeton Spanish churches in Northern Virginia, has gotten her entire family involved in this ministry. Pretel, who was a teacher in her native Colombia, along with members of her husband's churches started their first GED or high school diploma equivalency program in 2012. They knew that education was one way they could help Spanish-speaking immigrants get better jobs.
"I now have former students doing their college degrees or technical studies," Pretel says proudly. "I also have two starting their own companies but most see increases in their salaries because they now have their diplomas and can have a little bit of a better life."
But Pretel and the other volunteers do more than give students the skills that will serve them in the workplace. They see teaching the classes as an opportunity to share Christ with their students, some 80 percent of whom are Roman Catholic. "When someone is in need, my husband and I will go look for them, pray with them, give them Bible studies. We believe this is a good way to open the doors to our [Seventh-day Adventist] community and share the gospel just like Jesus did. We hope that our students will become interested in following Him."
The group now has classes at churches in Manassas, Charlottesville and Culpeper in Virginia as well as a class in Hyattsville, Md., and they are mostly self-funded with some help from her husband's churches and from a negligible fee charged to students. Pretel works with about 10 volunteers and they carpool to the different locations to teach classes most nights of the week. Her daughter, Suranny who is a registered nurse, teaches the science classes. Yair Zapata, a member of the Culpeper church who holds a bachelor's degree in engineering, teaches the math classes. They start the class with devotional, songs of praise and prayer.
"The program opens doors for students to have their GEDs," Zapata says. "With the help of the Lord we are are trying to help as many people as possible."
Some 58 students recently graduated from the program. The group is now in the process of registering new students.
A Family Affair: Pastor Olives Villamizar, Claudia Pretel and Suranny Villamizar all support the ministry.
This year's program will be a bit more of a challenge as the GED tests will now be taken on computers. Pretel is seeking donations for computers, and says that since she has already seen many miracles in this ministry, she is confident God will come through with the needed computers. For more information on how you can help, contact Pretel at Claudiapretellp@gmail.com.