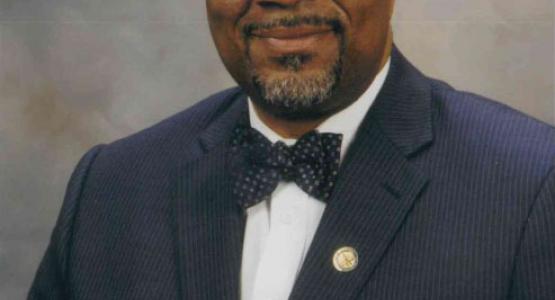 5 Questions for Albert Kelly
May 08, 2014 ∙ by Anonymous ∙ in Allegheny East Conference, Uncategorized
Albert Kelly
Interview by Celeste Ryan Blyden
Meet Albert Kelly, mayor of Bridgeton, N.J. and member of the Allegheny East Conference's Bethany church in Bridgeton.  He manages a city of 25,000. He founded an agency and leads an army of 700 who daily work to eliminate poverty in Southern New Jersey. He also organized a coalition of churches, which over the last eight years, have fed 25,000 people. He calls it Faith in Action. We call it, and Mayor Kelly, a blessing. I recently interviewed him to find out how and why he does it all and how he's helping to tell our church's story in a public and faith-filled way.
 Q: How and why did you become mayor of Bridgeton, and what does it entail?
A: Prior to running for mayor, I served on the local school board for several terms, served on the local community college board of trustees and also was elected to the Bridgeton City Council. Community service is something I truly believe in therefore I ran for mayor believing I could use my experience to make a difference in my hometown.
I am the first [Seventh-day] Adventist to hold this position and I believe being an Adventist means I must uphold the beliefs of the church and, most of all, be a Christian. As mayor I am the chief executive of my community and I see it as being the main servant, cheerleader and collective visionary for the direction we can move toward as a community.
Q: What is your day job?
A: My full-time employment is that of the president, founder and chief executive officer of Gateway Community Action Partnership, the designated anti-poverty agency for three counties in southern New Jersey. Our annual budget is over $52 million and we employ 700 employees with over 40 different programs.
Q: How have your used your triple roles—public sector, community service and local church leadership—to make a difference and raise awareness of our faith?
A: I was baptized into the Seventh-day Adventist Church in 1976, and served under a number of great local pastors. This has helped me grow in my awareness of how God wants us to serve Him by serving others. I have been blessed to be able to have a job in the private sector that enables me to use the resources that I have gathered in the public sector and integrate my faith in all that I do on behalf of my city.
Q: Has this impacted the way Adventists are viewed in the community? How so?
A: I believe so. Many of our residents know me by the church because what I have been doing is not new. We as a church have been working in the community long before I became mayor. For example we have been operating our soup kitchen for eight years. Each Sunday we provide meals to the homeless and hungry. We recently passed the 25,000-meals count. Word of mouth literally (no pun intended) has been the main source of advancing the work of feeding the less fortunate.
Under our pastor's leadership we recently began to go out each fourth Sabbath and give our free meals in the community, we call this Faith in Action. We position ourselves in the center of town and at the senior citizen complex, and give out a hearty meal and Bible tracts.
Q: What have you learned from this unique opportunity God has blessed you with?
A: To use a slogan from a national company, sometimes you need to "Just Do It." We become paralyzed by analysis trying to study the obvious, but we need to follow God's Spirit and just start serving.
Success will come by serving God first and others will join by our willingness to serve. We as a local church talked about the need to serve meals on weekends when other soup kitchens were closed and one member said, "Let's get started and stop talking about it." That was 8 years ago and the first of 25,000-plus meals.