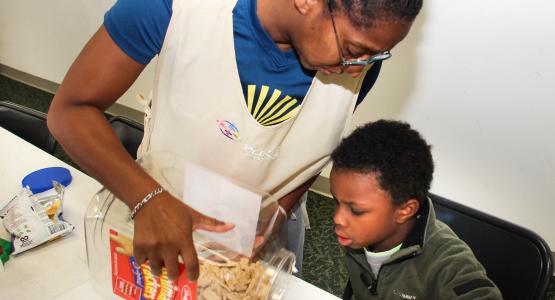 Miracle Temple Kicks Off Respite Program for Parents of Kids With Special Needs
October 28, 2014 ∙ by Anonymous ∙ in Allegheny East Conference
Allegheny East Conference's Miracle Temple church in Baltimore recently partnered with The Arc Baltimore to offer a quarterly respite care program known as Parent's Day Out.
Story by Jania Matthews
Photos by David Turner
Allegheny East Conference's Miracle Temple church in Baltimore recently partnered with The Arc Baltimore to offer a quarterly respite care program known as Parent's Day Out. Their program is structured after PURE Ministries—a nationwide ministry with a vision to help churches demonstrate the love of Jesus Christ to all people in need—and is designed to give families that have children with special needs a much-needed break. Even more appealing, they welcome siblings.
"God placed this ministry in my spirit," says Marlon Blocker, the Miracle Temple member who introduced the PURE Ministries concept to Miracle Temple. "When God gives you a task, things come together and this ministry is an example of God's work coming to light."
Parents Day Out is designed to give parents and caregivers of children with mental and physical disabilities a break from their daily routines. Parents have the assurance that they are leaving their children in safe, capable hands. Ministry volunteers undergo special training on how to care for children. While not required, most volunteers are current and former teachers.
"How refreshing and magnificent [an] experience it was to have three hours to myself!" said parent Janet Hamilton, who took advantage of the program. "The new faces and environment was exceptionally beneficial for our daughter."
Parents Day Out will take place the second Sunday of each quarter from 1:30 p.m. to 4:30 p.m. The upcoming 2015 dates are January 11, April 12, July 12 and October 11. For more information about volunteering or registering children for the next event, contact Blocker at mtpure_ministries@miracletemple.net.
Miracle Temple members have a good time with the children who attended their first Parent's Day Out program.