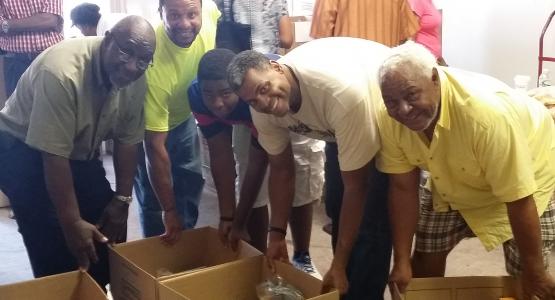 Ebenezer Church Shows Brotherly Love to Neighborhood
October 29, 2014 ∙ by Anonymous ∙ in Allegheny East Conference
Ebenezer Church Shows Brotherly Love to Neighborhood
Story by Lisa Tynes
Allegheny East Conference's Ebenezer church has infiltrated their South Philadelphia community to meet the needs of residents. The demographic of the community is vast and includes the extremely affluent to the very poor. Under the direction of Charles W. Drake, senior pastor, the congregation has extended their friendship to neighbors through several programs and partnerships.
"Picnic in August" was an outreach program designed to meet hunger needs in the community. The entire congregation donated food items to fill boxes with enough food to feed several meals to 300 people. The receiving families say it came when it was least expected. Byronette Watson, organizer, says, " People are hungry all year long; let's not wait until Thanksgiving to feed our community. The recipients were overwhelmed by the expressions of love."
Ebenezer later extended its partnership with the Philadelphia Mural Arts program by hosting an outdoor concert in their parking lot directed by the American Composers Forum. The community filled the lot to hear original compositions from different composers of varied genres of music. This event was part of the "Ebenezer Live!" series, which brings the arts off the avenue and into the neighborhood.
The church also partnered with a refugee agency to help relocated Congolese assimilate into the community as well as the Ebenezer church family.  Fellow Adventist church members from another continent have found a new family and home at Ebenezer. Crystal Drake leads the congregation in assisting with housing, jobs, clothing, food, English as a Second Language programs, schooling and more. Translators interpret sermons and help the Congolese members feel at home in their new country.