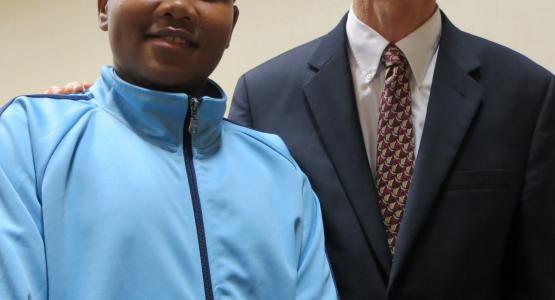 Lehigh Valley Elementary School Students Lead Evangelistic Meetings
November 20, 2014 ∙ by Anonymous ∙ in Education, Pennsylvania Conference
This fall four Lehigh Valley Seventh-day Adventist Elementary School eighth-graders conducted an evangelistic series at the school in Whitehall, Pa. Mark Dekle, one of the constituent pastors, trained the stu- dents to preach for the event using the ShareHim series "His Way of Hope."
Story by Pennsylvania Conference Staff
The students are excited about witnessing for Christ and invited their family, friends and church members to attend. They also posted fliers throughout the community. About 90 people attended opening night.
Pastor Mark Dekle and Wayne Okoth celebrate a successful evangelistic series. Photograph by Ray Hartwell
"This experience has helped me understand more about the Bible and has prepared me to stand in front of a multitude and preach," says Wayne Okoth, a member of the Walnutport church.
Moses Omwega, a Bethlehem church member, acknowledges God's role in the event, "I felt the Holy Spirit in me. I wasn't the one speaking, it was Christ." The presenters are noticing other benefits from the
experience. "This is helping me witness and also helping me to overcome nervousness when I am up front," says Samantha Weekes, a member of the Allentown church. Kayleen Martinez adds, "The ShareHim pro- gram has taught me a lot of new things, and answered some of my questions about the Bible and our beliefs." Martinez is a member of the Lehigh Valley Hispanic church in Allentown.
"We believed it would be a great experience for the students to get up front and actually do the preaching," says Charles Rutt, principal. "The youth are our future leaders, and we want and need to prepare them for their mission ahead."