1,200 Baptisms and Counting: Hispanics Gather for Lay Evangelism Festival
February 22, 2007 ∙ by kkajiura ∙ in More
By Celeste Ryan Blyden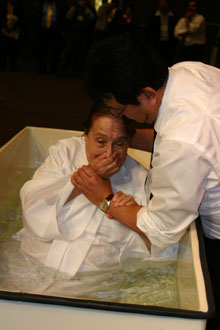 Recently, 1,400 members from Potomac's 50 Hispanic churches gathered in Ocean City, Md., for their 10th Lay Evangelism Festival. For four days they worshipped, attended seminars, celebrated their evangelism successes for 2006, and set goals for 2007. 
Their theme was "Jesus: Make me a Disciple" and over the course of the festival, that's just what they were encouraged and trained to become. Nine workshops offered each day taught attendees how to lead radio, children's, youth, discipleship, and other ministries. They also studied Daniel, Revelation, and the Apostle Paul. One youth workshop focused on teaching youth how to preach. "We teach them from a young age," explained one organizer. 
The conference's Hispanic Evangelism Committee, led by Hispanic Ministries coordinator Ruben Ramos who will soon begin coordinating Multilingual Ministries for the entire Columbia Union, plans the annual festival. This year, as they bid him a fond farewell, they had much to celebrate. First, the event has gotten so big that they've had to move from a hotel to the Ocean City Convention Center where on Sabbath they filled the second-floor auditorium. Secondly, the many Bible studies, evangelistic campaigns, and small group meetings ("hogares iglesias") led by dedicated pastors and members yielded 1,200 baptisms in 2006. And thirdly, they announced the opening of a new $1.8 million evangelism center in Maryland. 
On Sabbath, which drew the largest audience, new Potomac Conference president Bill Miller gave the morning sermon. In the afternoon, the crowd cheered as 12 people were baptized. And then came the highlight of the entire event—the announcement church by church and pastor by pastor of how many precious souls they will work to win for Christ this year. Their total goal, supported by enthusiastic cheers from attendees, is 2000 souls in 2007. As they continue the current strategy and commitment to discipleship evangelism, the blessings will come.