5,000 Attend Caravan of Hope Crusade
October 29, 2007 ∙ by kkajiura ∙ in Potomac Conference
By Jeanie Allen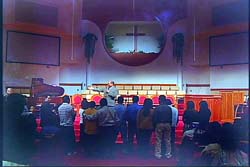 Potomac Conference Hispanic Ministries recently launched Caravan of Hope, a four-day intensive evangelistic outreach in the Washington, D.C., metro area. Alejandro Bullon, international evangelist and ministerial director of the South American Division, embarked on a marathon soul-reaping campaign beginning at the Southern Asian church in Silver Spring, Md. There he shared the good news of the second coming to approximately 800 people. 
On Sabbath morning, Pastor Bullon preached to a full house at the Washington Spanish church in Washington, D.C. Several hours later, he addressed approximately 500 people at the Capital Spanish church, also in D.C. The meetings continued Sabbath afternoon at the Takoma Park (Md.) church, where more than 1,000 members and visitors heard God's Word. Returning to the Southern Asian church on Sabbath evening, Pastor Bullon reached out to the more than 1,200 people who flooded the church. The meetings continued on Sunday at Jackson High School in Manassas (Va.) with about 800 guests, and concluded on Monday at Mount Vernon Elementary School in Alexandria, Va. with 500 attendees. 
Throughout the entire event, more than 5,000 people attended and 174 new brothers and sisters in Christ were baptized. Approximately 400 people responded to the call and will continue with Bible studies. 
By the grace of God and the power of the Holy Spirit, 810 people have been baptized so far this year in the Hispanic churches, reports José Esposito, conference Hispanic Ministries coordinator. Seven new groups of believers have also been started or organized.