Columbia Union College Impacts Their Community
October 16, 2007 ∙ by kkajiura ∙ in Washington Adventist University
By Brittani Bissell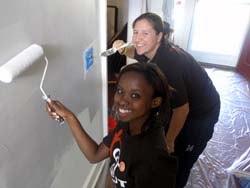 Between 250 and 300 Columbia Union College (CUC) students, faculty, and staff recently left their classes and ran from their desks to go and make a difference in their community. Service Day is an annual event sponsored by the college's Campus Ministries and other various academic departments.
Service Day exemplifies CUC's motto "The Gateway to Service" by giving students the opportunity to help their neighbors. The day started out with chapel service, then participants grabbed sack-lunches and T-shirts, boarded buses and vans, and were on their way!
This year's projects included sorting food at the Capital Area Food Bank and working with children at the Friendship House in Washington, D.C. They also help prepare food and pack meals with Food and Friends in Washington, D.C., a non-profit organization that prepares, packages, and delivers meals and groceries to more than 1,350 people living with HIV/AIDS, cancer, and other life-challenging illnesses in the capital, northern Virginia, and Maryland area.
They also helped with landscaping at the Takoma Park (Md.) Police Department, and campaigned for affordable housing with Action in Montgomery, a multi-racial, multi-faith, strictly non-partisan, county-wide citizens' organization, rooted in local congregations and associations.
"Service Day is an annual event where the campus comes together and puts into action our motto 'Gateway to Service,'" stated Scott Steward, CUC executive director of marketing and communication. "It is also a chance for faculty, staff, and students to work side by side to represent Christ to the community through various community service activities." 
Service Day has gotten such good response from the community, as well as the participants, that the Campus Ministries office hopes to convert it into a monthly event, targeting one or two sites each time.