Miracle Temple Pathfinders Collaborate With Inmate Congregation to Feed Families
November 26, 2007 ∙ by kkajiura ∙ in More
By Beth Michaels and Leroy Neal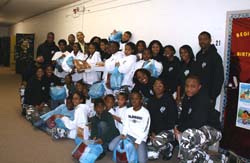 Through the combined efforts of the Faithful Flock of Calvary church in Jessup, Md., and the Miracle Temple church Eagles Pathfinder Club in Baltimore, 65 inmate families in the Baltimore metropolitan area were recently blessed with a full course Thanksgiving meal.
Faithful Flock is a congregation composed of inmates at the Jessup Correctional Institution. This is the third year that they have worked with the Eagles club to benefit inmate families for the holidays. The Thanksgiving baskets were made possible through monetary donations from Faithful Flock members as well as monetary and food donations collected and earned by the Pathfinder members.
Dorian McDonald, Eagles Pathfinder Club director and co-coordinator for the project, reported that her club members raised more than $700 by holding a drive-in and car wash this past year. That money was used to purchase food items missing from what the teenagers collected during a recent food drive. Miracle Temple church member Rob Wallace provided the necessary funds to provide turkeys for each basket.
"It is really neat to see their faces," said McDonald of her Eagles delivering the finished baskets. "The kids get to see for themselves that the families are grateful. One kid gives to another, and it makes them feel good to give to someone in need."
"The Thanksgiving basket project is a ministry that exemplifies the true spirit of teamwork," added co-coordinator Leroy Neal, lead volunteer for the Baltimore City Prison Ministries team and member of the Berea Temple church in Baltimore. Other assistants were Faithful Flock Personal Ministries director Jeffrey L. Johnson and first elder and resident leader Ronald Ellis.
Anyone wishing to help with next year's Thanksgiving basket project can write to Neal at P.O. Box 31503, Baltimore, MD 21207, or to McDonald at 
pathfinders@miracletemple.net
.