Pennsylvania Hispanic Lay Festival Draws 300
April 06, 2007 ∙ by kkajiura ∙ in More
By Ruben A. Ramos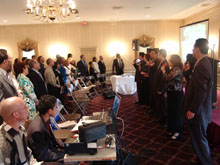 Recently, 300 members attended the annual Pennsylvania Hispanic Lay Festival in Strasburg, Pa. The event, organized by conference Hispanic Ministries coordinator Juan Lopez, was designed to celebrate the accomplishments of dedicated soulwinners and train attendees to reach more people for Christ. Speakers included Oscar Hernandez, Hispanic marketing director for the Review and Herald Publishing Association, and Ruben A. Ramos, new Multilingual Ministries director for the Columbia Union Conference. 
Attendees enjoyed hearing amazing testimonies including that of Dinorah Pena who was recognized for her outreach efforts. Since her baptism three years ago, she has brought 13 people to Christ. She currently hosts a small group meeting in her home each Sabbath for more than a dozen people. 
Lopez also introduced Pastor Isabel Chavarria, a Lutheran minister who was recently baptized into the Seventh-day Adventist Church. 
Before the meetings ended, 138 participants accepted the call to try to win two people to Christ this year.