Shiloh Member Accepts Brother's Congressional Medal of Honor
November 14, 2007 ∙ by kkajiura ∙ in More
By Bryant Taylor, DMin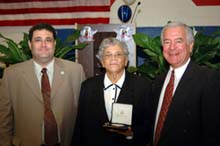 Lelia Cooper, a Shiloh church member in Huntington, W.Va., got a memorable call recently. On behalf of her deceased brother, Major William L. Hill, a Pilot Tuskagee Airman for the United States Air Force, Cooper was asked to accept a Congressional Gold Medal of Honor on his behalf. 
At a special ceremony held at the Spring Hill Elementary School in Huntington, Hill and another veteran, Earl B. Rudisill, were honored with the medal. The Congressional Gold Medal of Honor is the most distinguished award bestowed by the United States Congress. It is the nation's top civilian award presented to those individuals that embody the best quality in American heritage. Before it can be awarded, legislation must be approved by Congress and signed into law by the president. Congress first awarded the medal to George Washington in 1776. 
The Veterans of Foreign Wars kicked off the Huntington service by Posting the Colors, followed by the school's choir performance of the "Battle Hymn of the Republic." The event was filled with distinguished guests: the officers of the West Virginia Chapter of the Tuskegee Airmen; Skip Holbrook, the police chief; and Josh Eldridge, state police. A representative from Governor Joseph Anthony Manchin III's office presented a letter of greeting to the two recipients, followed by Huntington Mayor David Felinton presenting them with a proclamation from the city. The highpoint of the day was when Congressman Nick Rahall presented the beautiful medal to the recipients.