Spence Accepts CUC Presidency
November 19, 2007 ∙ by kkajiura ∙ in Washington Adventist University
By Celeste Ryan Blyden and Scott Steward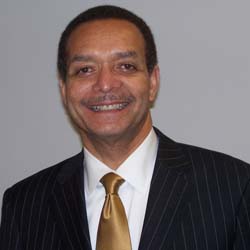 On January 2, 2008, Weymouth Spence, EdD, will become the 19th president of Columbia Union College (CUC) in Takoma Park, Md. He brings to the role 22 years of successful leadership in higher education and a passion for Adventist Christian education. 
"Dr. Spence has demonstrated his ability to be a transformation agent in previous organizations and learning institutions," said Dave Weigley, president of the Columbia Union Conference and chair of the Columbia Union College Board of Trustees (CUCBOT). "I'm excited to work with him to implement CUC's strategic plan and discover our pathway to the future." 
After an extensive process that started with 50 names, the presidential search committee-which consisted of CUC administrators and faculty, board members, and Columbia Union leaders-recommended Dr. Spence for the position. 
"He was the type of person we were looking for, and in terms of answering questions and maintaining a presentation, he was very much on point and obviously very prepared for what the position called for," said Jean Warden, CUC's vice president for student life and retention, in a newspaper interview. 
According to Weigley, the board was very impressed by their interview with Dr. Spence-a lifelong Seventh-day Adventist-who outlined some of his ideas for the college and its future. 
"The board, and I believe the broader community of stakeholders, is looking to Dr. Spence-a self-described transformational leader focused on results-to restructure, re-image, and re-brand Columbia Union College in the context of a new, vibrant vision consistent with the institution's mission," said Hamlet Canosa, EdD, vice president for Education for the Columbia Union Conference and a CUC trustee. 
Dr. Spence has served as academic dean at both Baptist Health System School of Health Professions in San Antonio, Texas, and at Anne Arundel Community College in Arnold, Md. He holds a doctoral degree in Vocational/Technical/Occupational Education from Nova Southeastern University in Ft. Lauderdale, Fla., a Master of Science in Education from Central Connecticut State University, and an Associate of Science in Radiologic Technology from Kettering College of Medical Arts in Ohio. His Bachelor of Science in Biology comes from Atlantic Union College (AUC) in South Lancaster, Mass., where he has served as senior vice president for Academic Administration since June 2006. 
Dr. Spence and his wife, Rebecca, have two children, Melissa and Weymouth II. They attend the Emmanuel-Brinklow Seventh-day Adventist Church in Ashton, Md., where he serves as an elder. 
To help him assess how to begin his work at CUC, the board has outlined objectives that should be addressed during the first few months of his tenure. He plans to review the recommendations from last week's summit on CUC, and Monday, he will meet with CUC faculty, staff, and students to get their input on the school's needs and next steps. 
"I am ready to move forward," he said of his new responsibility. "I have the support of my family, my church family, the learning community at AUC and, most of all, the Lord. On the morning after the board meeting, the Lord, through the Sabbath School lesson, stated in Isaiah 41:13: 'For I am the Lord, your God, who takes hold of your right hand and says to you, Do not fear; I will help you.' With the Lord holding our hands there can only be success." 
To see a photo of Dr. Spence, visit www.cuc.edu. You will learn more about him in an upcoming issue of the Visitor.