Union Committees Dialogue About Their College, Make Recommendations
November 12, 2007 ∙ by kkajiura ∙ in Washington Adventist University
By Celeste Ryan Blyden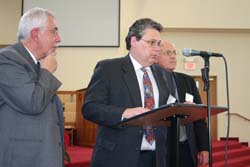 Yesterday some 85 members of the Columbia Union Conference Executive Committee, all eight conference executive committees, and the CUC Board of Trustees (CUCBOT) met at the Southern Asia church to dialogue about Columbia Union College, the Adventist college in the nation's capital. The thinktank, facilitated by retired church administrator Gary Patterson, energetically shared ideas on how to address the college's financial and enrollment issues and make the 103-year-old school viable for the future. They also raised a number of fundamental questions, including: 
•What is the mission of Adventist education? Is our college fulfilling that mission? 
•Why aren't more of our young people attending our union's college? 
•How can we operate with shrinking enrollment, aging facilities, negative working capital, and other impacting trends? 
•What are the underlying problems facing the college and how should we address them? 
•Is the school a problem to be solved or a vision and a mission to be embraced at whatever cost? 
After some informative reports by college administrators and lengthy discussions, the group emerged from breakout sessions with a number of recommendations: find a strong leader with business acumen, deal with the identified problems, streamline weaker programs while strengthening the most viable ones, pursue the three school model (liberal arts, allied health, graduate and professional studies), seek educational partnerships and philanthropic support from alumni, and redouble marketing efforts. 
These recommendations will be shared with the CUC Board for consideration and implementation. To share your views, email comments@cuc.edu. Read the full story and hear the voices of attendees in your December Visitor.