Adventist HealthCare Helps Lead New "Take a Shot" Campaign
October 22, 2008 ∙ by kkajiura ∙ in Adventist HealthCare, Health & Lifestyle
By Marisa Lavine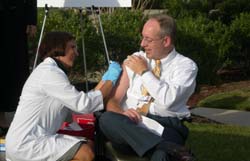 Residents of Montgomery County, Maryland, and surrounding areas are being urged to get a flu shot this fall to help them stay healthy and avoid seasonal influenza, an illness that affects more than 25 million people in the United States each year. Health officials from Shady Grove Adventist Hospital in Rockville, Md.; Washington Adventist Hospital (WAH) in Takoma Park, Md.; and Montgomery County government have partnered with local organizations on a new campaign called "Take Your Shot for Health," which launched recently during a news conference and flu shot clinic at Shady Grove. 
"Our organizations' mission is to improve the health of people and communities," said Adventist HealthCare president and CEO William G. "Bill" Robertson (pictured, at left). "We know that flu shots are an important way that we can help keep children and adults in our community healthy. We are proud to launch the Take Your Shot for Health campaign with our community partners to expand access to an important health resource." 
Seasonal influenza, or "the flu," results in about 150,000 hospitalizations and 36,000 deaths annually. In order to increase flu shot participation this year, Adventist HealthCare, its local nursing homes and its two local hospitals, are partnering with the Montgomery County Department of Health and Human Services, the Washington Wizards, M&T Bank, and WTOP radio to educate the community about the importance of flu shots and to increase participation in these annual vaccinations. The Take Your Shot for Health campaign will work to provide 15,000 flu shots to the community this fall. 
"The flu is a common illness that can easily become quite serious in at-risk populations. The best way to protect our community from the flu is by encouraging annual flu shots," explains Drew White, chairman and medical director of emergency medicine at WAH. "We hope to make flu shots easily accessible and convenient for all members of our community." 
While flu shots are recommended for everyone, they are strongly encouraged for those at highest risk for the flu including: 
People over 50; 
Children between six months and two years; 
Women who are pregnant; health care workers; 
Anyone living in a long-term care facility; 
Day care providers; and 
Anyone with chronic heart, lung, or kidney conditions; diabetes; or a weakened immune system. 
To learn more about Take Your Shot for Health, visit www.takeyourflushot.com.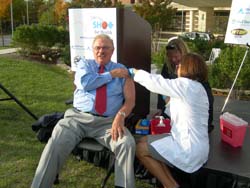 During the press conference and opening day of the campaign, Neville Harcombe, executive secretary for the Columbia Union Conference, receives his flu shot from Shady Grove Adventist Hospital's infection control nurse, Michael Anne Preas.