Adventist Leads State Workforce Creation Summit
February 27, 2008 ∙ by kkajiura ∙ in More
By Adventist HealthCare Staff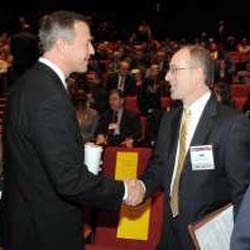 For the past year, William G. "Bill" Robertson, president and CEO of Adventist HealthCare, has been leading the Governor's Workforce Investment Board by collaborating with top business leaders across the state to create a streamlined and aligned workforce system that will help Maryland compete in the 21st century.
This work was the highlight of the recent 2008 Governor's Workforce Creation Summit which Robertson, chair of the board, opened by introducing the host of the event, Maryland Governor Martin O'Malley (see photo).
More than 500 Maryland stakeholders from business, education, government, and nonprofits attended the event, held at the Johns Hopkins Applied Physics Lab in Laurel, Md.
"We hope that today's summit will provide you, and our audience, with the opportunity to hear some new ideas that will help shape our state's future as a vibrant and vital place to live, to work, and to play," said Robertson, who is also chair of the board's eight-member Executive Committee.
The goal of the board, Maryland's chief policy-making body on workforce development, is to create initiatives that will lead to a highly qualified workforce that is both available to current employers and attractive to future employers throughout the state of Maryland. 
"It is critically important to the health of our economy for Maryland business to be able to recruit, train and retain a skilled and qualified workforce," Robertson said. "Without the right workforce, Maryland's businesses cannot grow and expand and compete, and it will be very difficult to attract new employers to our great state if they cannot depend on the quality of our workforce."
The summit was one of several events that focused on building a comprehensive workforce creation system for Maryland. Among these efforts was the creation of the P-20 Leadership Council to better align the state's educational system with workforce goals and funding to address Maryland's nursing shortage. Robertson is also a member of the P-20 Leadership Council.
"This summit is about harnessing the vast amount of knowledge from an array of experts for the benefit of our entire State," said Governor O'Malley. "Our future progress depends on our ability to build and sustain a workforce that answers the critical needs of our employers, while also fulfilling the needs of our most precious resource-our people."