Allegheny East Delegates Re-Elect Incumbent Leaders
October 01, 2008 ∙ by kkajiura ∙ in Allegheny East Conference
By Beth Michaels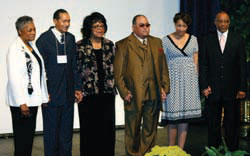 At the third quadrennial constituency session of the Allegheny East Conference (AEC), more than 400 delegates gathered to obtain updates from conference departments, make their voices heard, and confidently re-elect their top three incumbent officers, who will retain their roles for the next four years. 
Following a discussion and motion led by Phyllis P. Edmonds, JD, director of claims and legal services for Adventist Risk Management, voters agreed that it would best suit AEC to merge the conference (as a ministry) with its association (the corporation), an act being taken by many conferences across North America. This merger not only affords them better lawsuit protection, it will also require that two of its officers hold new position titles: Charles Cheatham will remain conference president while Henry Fordham's title will change from executive secretary to vice president of administration, and Lawrence Martin will no longer be treasurer, but vice president of finance. The new titles do not change their job functions.
"We felt led to make sure that we were in agreement with NAD and Risk Management for the merger," explains Cheatham. He added, "I thought the meeting went very well, the various committees worked well, and even the process of having the Nominating Committee meet two weeks before the session made it very comforting to have a session completed by 4 p.m."
In addition to leaders, a majority of the departmental directors were also returned. One change in leadership came with the recent retirement of Thaddious Privette as director of stewardship. His successor, and the session parliamentarian, is Jackson M. Doggette, former pastor of the Germantown church in Philadelphia, and "an accomplished attorney" states Cheatham. His title is director of the department of philanthropy.
Read more about the session in your November issue of Visitor magazine.