Sligo Hosts International Domestic Violence Conference
October 14, 2008 ∙ by kkajiura ∙ in Health & Lifestyle
By Beth Michaels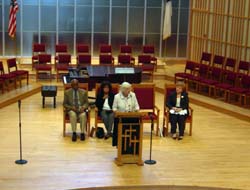 Potomac Conference's Sligo church in Takoma Park, Md., recently joined forces with PASCH (Peace and Safety in the Christian Home) to host their fourth international conference. Approximately 150 people from more than 15 states and two Canadian provinces gathered to discuss, "Partnering for Change: The Church Responds to Domestic Violence."
The international attendees included scholars, researchers, authors, social workers, heads of agencies dealing with abuse, clergy from as many as 10 denominations, and others interested in the topic. Guest speakers included Lundy Bancroft, author of Why Does He Do That?; Steve Tracy, author of Mending the Soul: Understanding and Healing Abuse; and Catherine Kroeger, PhD, author and PASCH founding organizer, among others.
Seventh-day Adventist specialists from across the North American Division also provided expertise during the Sabbath afternoon panel discussion, including Audray Johnson from the Southeastern California Conference as well as Columbia Union Conference's own Rebecca Brillhart, Sligo's pastor for discipleship; Sligo member Renee Battle-Brooks, chief of child abuse, sexual assault, and vulnerable adult unit for the state's attorney for Prince George's County, Maryland; and Karen Flowers, co-director of the Families Ministries department for the worldwide Adventist Church.
"The most 'startling' and significant information I gained at the conference was learning that, according to research, the domestic violence abuse rate is not significantly different within communities of faith than for non-Christians!" exclaims John Wagner, Sligo's pastor for administration and an event organizer. "I also learned that research further reveals that seldom do abuse victims exaggerate their situations so 'believe the victim and take action on victim's behalf' was a great take-away for me."
To learn more about PASCH, visit peaceandsafety.com.