Spencerville Church Hosts Festival of Religious Freedom
November 18, 2008 ∙ by kkajiura ∙ in Uncategorized
By Melissa Reid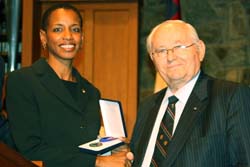 Celebrating religious freedom is not something that often comes to the minds of those who have never been without it, but for Chesapeake Conference's Spencerville church, having religious freedom deserves a celebration. The church recently hosted the Festival of Religious Freedom, which was the first of its kind in the continental United States. 
Secretary General of the International Religious Liberty Association (IRLA) and Spencerville church member John Graz has organized similar festivals in Africa, South America, and Asia. He explains that the function of these events is to promote religious freedom for all. He also notes the event allows attendees to give thanks to those who gave us religious freedom and suffered for it, the government and to our leaders who preserve our religious freedom, and above all God, who gave us the freedom to choose. 
"In a time when more than half of the world population is living in 40 countries where religious persecution and discrimination are a fact, the time had come for all citizens who care about religious freedom and live in countries where this fundamental freedom is protected, to publicly say 'Thank you!'" Graz says. 
Graz and Bert B. Beach, another Spencerville member and longtime religious liberty advocate for the Adventist Church, spoke to the current state of religious liberty in the United States, and highlighted areas of concern around the globe. Congresswoman Donna Edwards, representing Maryland's 4th Congressional District representative, and Montgomery County Executive Ike Leggett were both honored at the event. Both said they appreciated Spencerville's focus on religious freedom, and echoed their pride and thankfulness for the religious freedom and diversity enjoyed by the community they represent.
"It was thrilling to be a part of such a wonderful and historic event in which leaders and members of diverse faith communities could come together for a day and celebrate the religious freedom we enjoy in our country. I can't help but believe that someday we will be very thankful we held events like this one. The goodwill this has generated is immeasurable," said Jerry Lutz, senior pastor of the Spencerville church.
Columbia Union College's New England Youth Ensemble and Columbia Collegiate 
Chorale—from Takoma Park, Md.—provided music that celebrated religious freedom, and perfectly encapsulated the air of celebration.