Spring Meeting Highlights
March 11, 2008 ∙ by kkajiura ∙ in Columbia Union News
By Celeste Ryan Blyden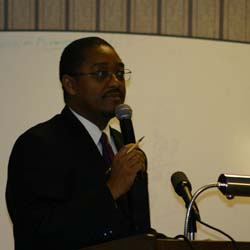 Education, Columbia Union College (CUC), and finances were high on the agenda during last month's Columbia Union Conference Spring Meetings. Conference presidents also discussed current evangelism initiatives, and many said they are seeking new ways to address obstacles to growth. The New Jersey Conference, for example, is engaging its pastors in "40 Days of Spiritual Intimacy with Jesus." Allegheny East Conference is studying the demographics and needs of its target audiences and using the findings in church planting efforts. Potomac Conference is focused on creating healthy churches. Pennsylvania and Mountain View conference leaders are thrilled that so many members are getting involved in evangelism (i.e. giving Bible studies). "We recently had more than 300 members—including Philadelphia's Korean church—participate in Equipping University with our pastors," reported Pennsylvania president Ray Hartwell. "Our goal is to lead churches into mission, raise up lay pastors, and equip members to take Pennsylvania for Christ." 
Tithe Up $2 Million
At the end of 2007, total union tithe was $113.1 million, a $2 million increase over 2006. Treasurer Seth Bardu says most of the money is forwarded to NAD, the Adventist World Headquarters, and back to the local conference. The Columbia Union retains $9.1 million for operations, CUC, retirement, and financial auditing. About 20 percent of it also goes back to local conferences. And according to Frank Bondurant, vice president for Ministries Development, an additional $200,000 will be used to seed local conference projects this year.
Baptisms Down 
Baptisms fell across the union from 5,689 in 2006 to 4,335 in 2007. Union president Dave Weigley called for greater correlation between tithe reversion to conferences and evangelism. "When you put resources behind the mission, you drive the mission forward," he said. He plans to set up a thinktank to brainstorm strategies for bringing more of the 50 million people in this eight-state territory to Christ. Overall, unionwide membership increased to 124,700. 
Educators Approve Early Childhood, Distance Education
The Columbia Union Board of Education voted to pursue a distance education pilot program for K-12 students and teachers and to hire someone part-time to identify and align all Early Childhood Education programs in the Columbia Union territory with church and government laws, policies, and accreditation requirements. 
CUC Board Approves Updated Strategic Plan
Just 65 days into his new job, CUC president Weymouth Spence, EdD, gave his first report to Executive Committee members. He announced four major actions the CUC Board of Trustees had taken to strengthen the college. Their votes approved his updated strategic plan, immediate implementation of a three-school model, $2.8 million in budget cuts, and affirmation of the school's location. "We are staying in Takoma Park, Md., and are committed to revitalizing our present campus," Spence noted. See the full story at www.cuc.edu.