Fire Destroys Baltimore-based Cherry Hill Church
January 07, 2009 ∙ by owetmore ∙ in Allegheny East Conference
By Visitor Staff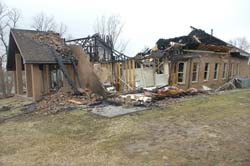 A few days before Christmas a fire destroyed Allegheny East Conference's Cherry Hill church in Baltimore. The facility was erected in 1988, however, the congregation was formed 30 years ago. Police are still investigating the cause of the two-alarm fire. 
"We will continue to hold on to our faith in God that He will see us through during this rough situation," said Pastor T. Duwayne Privette. 
For more information visit the Cherry Hill website at www.preparingforglory.org.