Washington Adventist Hospital and Columbia Union College Receive Award for Collaboration
June 23, 2009 ∙ by owetmore ∙ in Washington Adventist University, Education
By Lydia Parris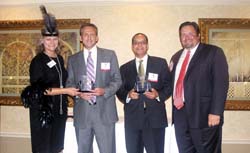 Washington Adventist Hospital (WAH) and Columbia Union College (CUC), both based in Takoma Park, Md., received the Business/Education Partnership Award from the Greater Silver Spring Chamber of Commerce for their contributions to quality healthcare and the education of future medical professionals.
"We are honored to receive this award for our work with Columbia Union College," said Jere Stocks, WAH president. "Washington Adventist Hospital has partnered with Columbia Union College for more than 20 years to support the community's healthcare needs by ensuring future healthcare professionals have access to innovative programs in the clinical hospital setting and beyond."
The partnership enhances CUC's medical programs, including nursing and respiratory, and provides continuing education for both hospital staff and college faculty.
CUC nursing students have the benefit of participating in clinical rotations on nursing units at WAH, with the supervision of a registered nurse clinical instructor. In 2008, WAH provided clinical experience to more than 108 Columbia Union College nursing and respiratory students, totaling more than 12,000 clinical hours. Hospital units that have opened doors to provide such experiences include: Medical Surgical, Cardiac Telemetry, Critical Care, Behavioral Health, Surgery, and Maternal Child.
CUC nursing students also participate in senior student practicum experiences at the hospital, and have the opportunity to gain valuable public health and community outreach experience by participating in the numerous community health screenings the hospital offers. Many of these students have returned to work at WAH or other facilities within Adventist HealthCare after obtaining their licensure to practice as a registered nurse in Maryland.
"Taking part in clinical rotations at Washington Adventist Hospital—working closely with experienced nurses and their patients—has helped me to be better prepared to enter the work force and serve in the Navy," said Graham Bannerman, a CUC nursing student who graduated in May with honors and is now a commissioned officer in the U.S. Navy.
This collaboration also provides the same opportunities to the respiratory therapy students who also complete their clinical rotations on the medical units as they master the skills and knowledge to deliver high-quality pulmonary care. In addition, there are scholarship opportunities for hospital staff to continue their education at Columbia Union College.
"Our partnership with Washington Adventist Hospital is an excellent example of how we connect with industry to fulfill our vision of preparing graduates to bring competence and moral leadership to their communities," said Weymouth Spence, CUC president.
To help keep pace with the future demand for well-trained and compassionate healthcare providers, Washington Adventist Hospital and Adventist HealthCare are partnering with Columbia Union College to provide expanded educational capacity focused on health science careers. In addition to healthcare services, the Village of Health and Well-being in Takoma Park will offer educational uses once the hospital relocates to the White Oak/Calverton area of Montgomery County. Those uses include a library/learning center, clinical education classrooms, and clinical education simulation labs.
"By providing high-quality and compassionate care to our patients and through partnerships with Columbia Union College and others, we are working to fulfill our mission to 'demonstrate God's care by improving the health of people and communities through a ministry of physical, mental and spiritual healing,'" Stocks added.