Adventist Behavioral Health Opens New Acute Psychiatry Unit for Seniors
April 29, 2010 ∙ by owetmore ∙ in Adventist HealthCare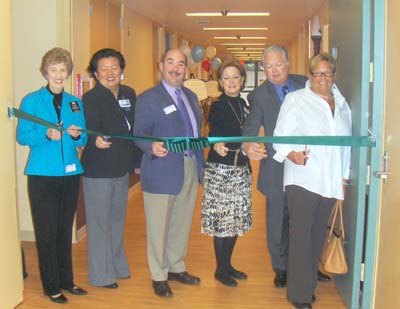 By Clarencia J. Stephen
Adventist Behavioral Health (ABH) announced the completion of its new Magnolia Unit, an acute inpatient psychiatry unit for senior adults 60 years and older. The Magnolia Unit is the only one of its kind in Montgomery County dedicated to serving the unique needs of senior adults. Located at Adventist Behavioral Health's Rockville, Md., campus, the Magnolia Unit will provide critical intervention to senior adults experiencing symptoms of acute mental illness. 
"Senior adults age 65 years and older have the highest rate of suicide in the United States," said Sako Maki, ABH president. "This population often struggles to cope with depression, anxiety and other mental illnesses as a result of sudden life changes, such as the loss of a loved one, poor health and financial challenges. Adventist Behavioral Health's Magnolia Unit will offer senior adults who are accustomed to living independently the acute treatment and stabilization needed to return safely to their homes and communities." 
The unit features 10 private patient rooms, fully accessible bathrooms, a dedicated psychiatric treatment and dietary team, individual and group therapies and amenities such as a kitchenette and private courtyard. 
The new unit was unveiled during a ribbon cutting ceremony. Among the event's attendees were Senator Jennie Forehand (D-Md), Montgomery County Councilman George Leventhal, representatives from the Offices of Senator Ben Cardin (D-Md) and Congressman Chris Van Hollen (D-Md), and Renata Henry, deputy secretary of Behavioral Health and Disabilities for the Department of Health and Mental Hygiene. 
Read more about ABH at AdventistBehavioralHealth.com.