Adventist Humanitarian Resource Center Hosts 3rd Annual Free Community Fair
December 07, 2010 ∙ by owetmore ∙ in Allegheny East Conference, Pennsylvania Conference, Health & Lifestyle
Story by Vernon Bramble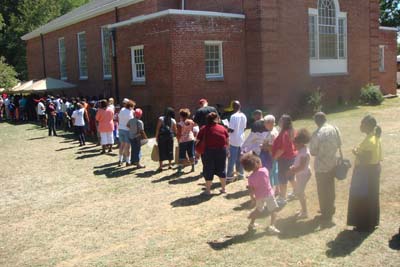 The Adventist Humanitarian Resource Center (AHRC) recently sponsored its 3rd Annual Community Fair on the campus of Pennsylvania Conference's Boulevard church in Philadelphia. The event drew a crowd of more than 1,500 visitors. 
AHRC's free Community Fair is designed to connect underserved and unemployed community members with resources, information and inspiration. The Community Fair provided opportunities for residents to meet with more than 32 exhibitors, including governmental agencies, nonprofit organizations, civic groups and businesses such as the PhillyFreeCycle, Philadelphia Corporation for Aging, The Lion's Club, Career Link, Nazareth Hospital, Bank of America, Community Behavioral Health, VFW and the Mayor's Office of Community Engagement.
"The majority of people attending this year were from the community, and for the first time we were able to offer confidential HIV/AIDS testing and counseling," said Darryl Stovall, AHRC board chairperson. "We are unquestionably committed to the mission of AHRC which is to empower individuals and families by providing educational support and life-enhancing opportunities. We are truly impacting the quality of life for our community members in a meaningful way." 
Community members were treated to free healthy snacks and over 540 meals were served and 40 backpacks of school supplies were given away. The Adventist Whole Health Network, conducted over 104 free health screenings for blood pressure and diabetes while children enjoyed a day of games and crafts, fun with face painting and moon bounce.
The Allegheny East and Pennsylvania conferences jointly supported the fair. Several Seventh-day Adventist churches in the Philadelphia area also joined together to support the Community Fair and a team of volunteers added to the success of the event. 
Next year's Community Fair is scheduled for Sunday, September 4, 2011. For more information or to view highlights from this event, visit ahrc-phila.com.