Beltsville Member Creates New Nonprofit
April 22, 2010 ∙ by owetmore ∙ in Potomac Conference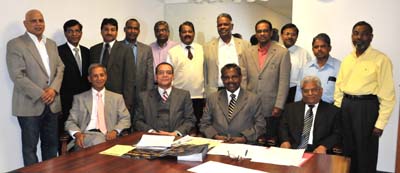 By Beth Michaels and Prasad Bathini
Indian American leaders from the Washington, D.C., area gathered earlier this month to show their support and to help launch a new voluntary, nonprofit, public/private organization called Friends of Southern Asia Adventist International (FOSAAI) Inc. FOSAAI is the brainchild of Elisha B. Pulivarti, a member of Potomac Conference's Beltsville (Md.) church. 
It is Pulivarti's goal that FOSAAI will assist and support the Southern Asia Division (SAD) in the fields of education, health, business, evangelism and special projects with the leadership support, aid and active participation of not only its members, but also of friends and well wishers of such a noble mission. Pulivarti hopes to adopt at least 1 billion people in India through FOSAAI.
The new organization's board of directors joined Pulivarti to help commemorate FOSAAI's launch, including SAD's three officers and Weymouth Spence, EdD, president of Washington Adventist University in Takoma Park, Md. Spence will act as FOSAAI president. 
During the event, Spence shared his vision and plan to collaborate with Spicer Memorial College administration in India to sponsor a bachelor's degree program in ministry there, with a special emphasis on city evangelism. It is hoped the new program will aid Spicer in evangelizing the neglected cities of India. Spence and Ted Wilson, General Conference vice president, plan to make their first visit to Spicer next month to expedite the launch of the bachelor's program.