D.C. Area Young Adults Enjoy First Fridays
November 18, 2010 ∙ by owetmore ∙ in Allegheny East Conference, Potomac Conference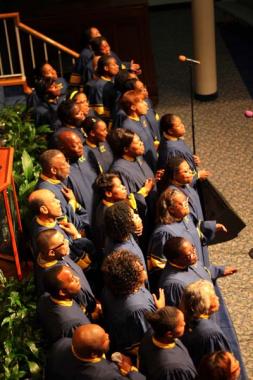 Story by Beth Michaels | Photos by Max Sejour
More than 125 young adult members from the Allegheny East and Potomac conferences congregated at the Dupont Park church in Washington, D.C., recently for First Fridays. Organized by the Metro Area Adventist Young Adults (MAAYA), First Fridays is "a worship program with the purpose of bringing young adults from the Metro D.C./Maryland area together in worship and fellowship," explains co-leader Trevor Fraser, a member of Potomac's Restoration Praise Center in Lanham, Md. 
"The significant number of young adults and churches in the area warrants the need to bring them together occasionally for dynamic worship and fellowship," continues Fraser. "This is to provide spiritual growth and association with their peer and to enhance their witness for Christ."
At the recent gathering, an abundance of musical talent was featured, including the Dupont Park church praise team, followed by a performance from the church's Celebration Choir, who sang about God's "awesomeness" and how members should be "grateful" for what He has done for His children. 
Pastor Kelan Fielder offered the night's devotional thought, focusing on the theme "Tending Flocks." He encouraged the young professionals to be ready for Christ to prepare them for His service. 
The next First Fridays will take place Friday, December 3, at the Restoration Praise Center. All young adults between the ages of 22 and 40 are welcome. For more information, contact Pastor Moses Eli, co-leader, at (856) 362-1227, or Trevor Fraser at (301) 880-0946.